A True Innovator in Men's Accessories
10.22.2013
Growing up in Nigeria, Niyi Okuboyejo always wanted to have a career in fashion. He made the move from Nigeria to Houston, where he attended the University of Houston for Marketing. In an effort to pursue his fashion career, Niyi then moved to New York City to attend Parsons for Fashion Design. In order to gain experience in the industry, Niyi landed a staff position at Michael Andrews Bespoke. With his minimalist mindframe and maximalist execution, as well as his background in fashion combined with his unique Nigerian style, Niyi was able to create his own men's accessories brand titled Post-Imperial, making colorfully patterned pocket squares to become a new staple in the male wardrobe.
Niyi created Post-Imperial with his aim being to "reach into the past to inspire for tomorrow." By conceptualizing new prints using traditional methods, he has been able to design innovative pocket squares that resemble old Nigerian patterns.
Using locally sourced fabric, cotton, and linen, as well as Nigerian dyes, he was able to modernize traditional patterns and create a collaboration between new and old ceremonial textiles. In fact, his mother would act as a middleman between dyers and artists in Nigeria and give Niyi different pattern ideas. Using resist dye and a cassava starch base, the products from Post-Imperial are more dynamic than basic, with a wide variety of colors and patterns unlike anything on the market today. The look–comfortable and relaxed, emulating a hybrid of preppy all-American and Nigerian style.
In his first year, Niyi's goal was to create a line of men's ties. The uniquely patterned ties emphasize his individual style and Nigerian background. His plans for the future are to create scarves that fit in with the Post-Imperial brand, and in the next five years, Niyi hopes to have a full menswear line. We can't wait to see what Post-Imperial has in store for the time to come.
The Post-Imperial pocket squares-recently featured in our "Best Men's Accessories for Fall" spread- are versatile, and go well with casual as well as corporate attire. Niyi provides examples on how to fold his pocket squares to fit your ensemble. For a funkier more casual look, follow the guidelines below.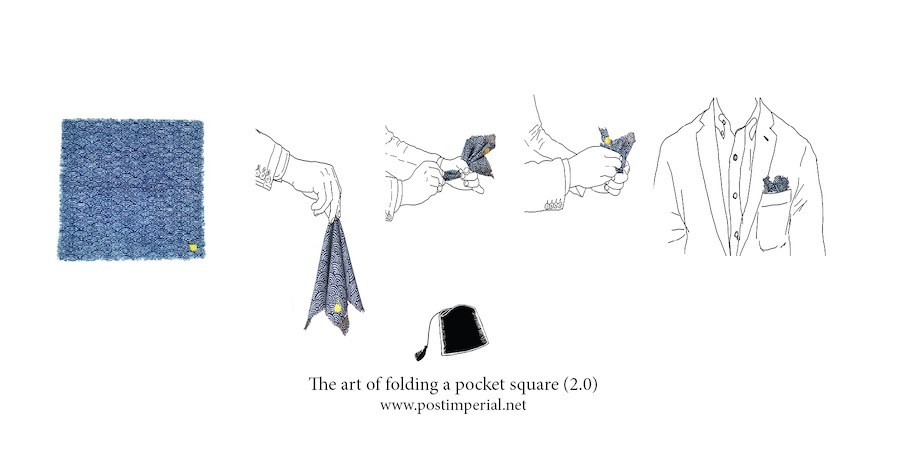 For a dressier look, follow these guidelines.