A Twist on the Christmas Favorite
12.16.2013
Eggnog stirs up a lot of emotions with its drinkers-they either love it, or they hate it. For 'nog lovers, nothing says Christmas like the sweet, creamy drink. With a few simple additions, including cinnamon, nutmeg or pumpkin spice, it makes for a treat that everyone can enjoy- especially when it's spiked. Either way you feel about eggnog, with these amazing takes on the well-known mixture, you're guaranteed to love it.
Coolhaus
The Coolhaus truck is at it again, this time with an ice cream sammy twist on the classic Eggnog. This refreshing sammy has vanilla, and a pinch of nutmeg and cinnamon. Worried about the weather being too cold for ice cream? The Spiced Eggnog Sammy is spiked with the perfect amount of rum to warm you right up!
Egg Nog
Get into the holiday spirit with the Eggnog by
DISARONNO
. The creamy cocktail is perfect when enjoyed in a highball glass and topped with fresh nutmeg. Serve this to your guests for a spin on the classic drink.
Ingredients:
2 parts DISARONNO
1 part BACARDI
OakHeart, Rum or SEVEN TIKI Rum
1 part half and half
1 whole egg
Preparation:
Shake ingredients with ice.
Strain into a highball glass and top with fresh nutmeg.
JHouse J-Nog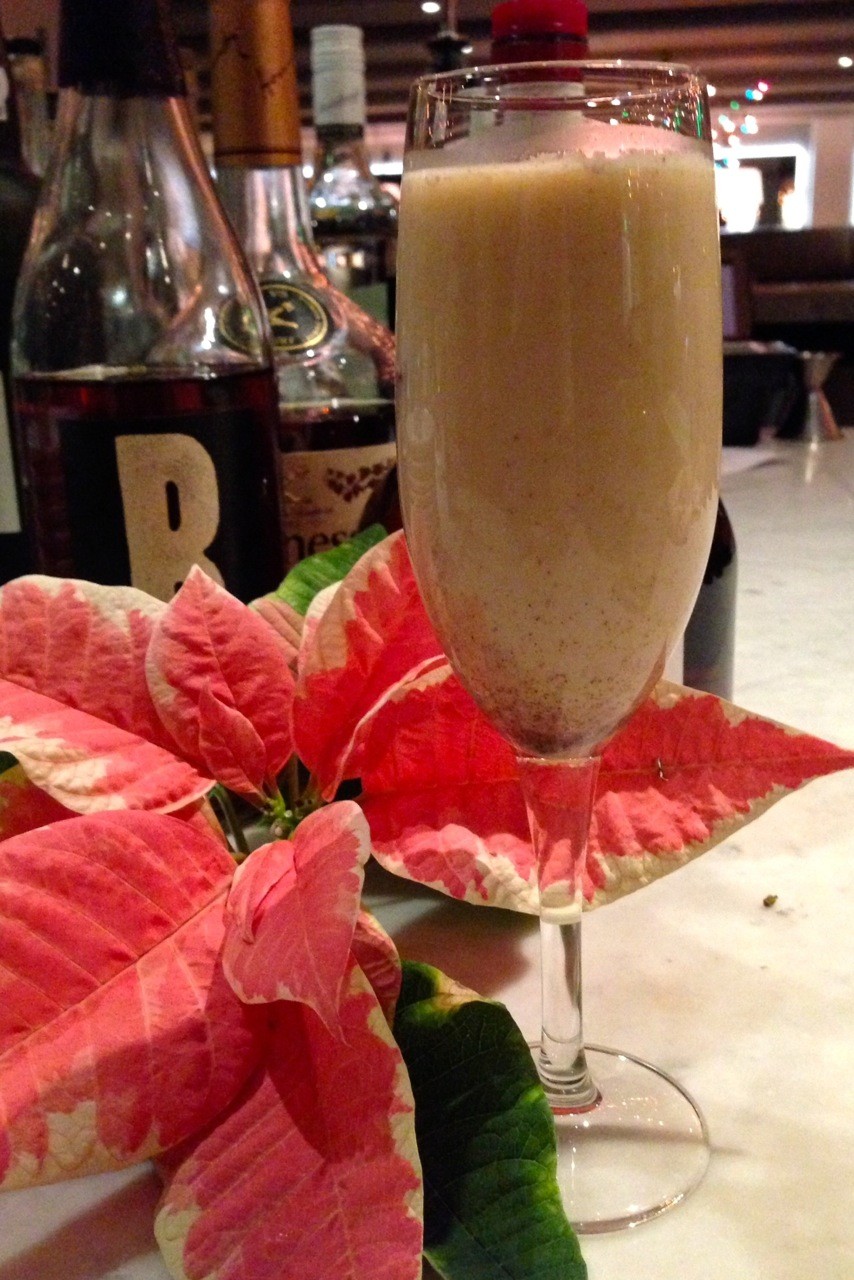 The J-Nog from Eleven14 Kitchen at JHouse Greenwich is a classic 'nog recipe with a kick of over proof bourbon, grand mariner and cognac. Served chilled in a Flute or rocks glass, this stiff drink will create that warm and cozy illusion of sitting next to the fireplace.
Ingredients:
4 large eggs
6 oz granulated sugar
1 tsp freshly-grated nutmeg
1/8 tsp allspice
1/8 tsp clove
1/2 tsp cinnamon
2 oz Hennessy VS cognac
1 oz Grand Marnier
5 oz Bakers bourbon
12 oz whole milk
8 oz heavy cream
Preparation:
In a mixer fitted with a whip attachment or a blender, blend the eggs for 1 minute.
Add sugar and spices and blend for an additional 30 seconds to incorporate.
Slowly add the cognac, bourbon and Grand Mariner, blend another 30 seconds.
Add the milk and cream and blend 1 minute more. Cover and refrigerate.
To serve, portion 4 oz of eggnog in a champagne flute, grate fresh nutmeg or cinnamon over the top (optional) and serve.
Serves 6-10 glasses
Featured image via iStock