The Ultimate Guide to New Years Eve
12.27.2013
New Years Eve is quickly approaching. Do you know how you're going to celebrate? With so many options to chose from, it's hard to pick the perfect place. We've pulled together some restaurants serving up NYE specials, along with the most festive outfit choices to wear to them. Here's our ultimate guide to New Years Eve.
Restaurant Specials: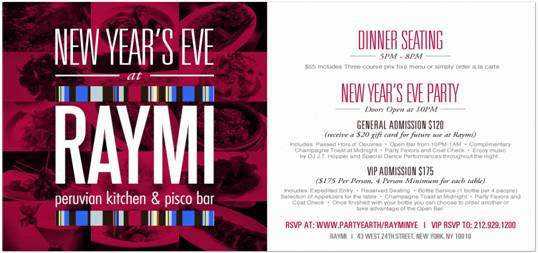 Lexington Brass (517 Lexington Ave, 212.392.5976) will be serving a prix fixe menu that includes a choice of appetizer, entrée and a bottle of Seguras Viudas Cava, with dessert for the table. Prices begin at $90 for parties of two, and $175 for parties of four.
Catch 21 (21 19th Ave, 212.392.5978) will be serving a prix fixe menu at their tri-level restaurant and rooftop lounge. The menu includes a choice of entrée, appetizer and dessert for the table, including Grilled Oysters, Melted Leeks, American Caviar and Champagne Saboyon, Dover Sole with orange, fennel, Jerusalem Artichokes and lemon butter sauce, and Black Truffle and Mushroom Cindarella Risotto.
Buca di Beppo (1540 Broadway, 212.764.6527) will be offering special packages that include a midnight champagne toast, open bar, great food and party favors, along with first floor access to Planet Hollywood where the DJ will be spinning the latest hits all night. Located in Times Square, this authentic Hollywood restaurant will be right in the middle of the NYE excitement! Package prices start at $295.
Isola Trattoria & Crudo Bar (9 Crosby St., 212.389.0000) is having a cocktail party in the restaurant beginning at 9PM. Tickets are $125 for general admission. If you purchase a table package for dinner, they include shared plates. To add something extra special to the night, Brian Newman will be performing with his wife, Angie Pontani. He recently played on SNL with Lady Gaga.
Raymi Peruvian Kitchen (43 West 24th St., 212. 929.1200) will be hosting a seated dinner from 5PM to 8PM, with a three- course prix fixe menu for just $55, or a separate a la carte menu. Beginning at 10PM, guests at the New Years Eve celebration will enjoy hors d'oeuvres, open bar, champagne toasts, live performances, music and dancing, along with the usual party favors for $120 a person. For an added perk, guests will receive a $20 gift card back for future use at Raymi! The VIP option includes bottle service in the VIP room, reserved seating, expedited entry, plated appetizers, champagne toast and party for $175 per person! For general admission, purchase tickets here .
Richard Sandoval's Maya Modern Mexican Tequileria (1191 First Ave., 212. 585.1818) is offering a special New Years Eve menu with two seatings. The first seating will be from 5PM-6:30PM for $60, and the second seating will be from 9PM-on with the addition of the ball drop, Mariachi band, and champagne toast for $99. Guests can enjoy a prix fixe menu that includes Chile Relleno (stuffed poblano chile, shrimp, calamari, scallops, chile dearbol sauce, black bean puree, crema fresca), Chicken Breast Adobada (adobo marinade, huitacoche dumpling, warm prico de gallo, cilantro pesto) and Abuelita Double Chocolate Cake (devil's chocolate cake, chocolate abuelita mousse, and salted caramel sauce).
The Perfect Outfits:
Haute Hippie has an incredible line of clothing to wear for New Years. Their Holiday line has all of the perfect New Years ensembles you could ask for. With sequence dresses, tuxedo jumpsuits and beaded tops, you can bring in the new year in style. All items can be purchased on the company website.
Art deco jewelry has definitely been a trend this year. Bring in the New Year with some art deco statement pieces. The fun doesn't need to stop there. You can wear these pieces year-round, as it's evident that statement jewelry will be around for years to come. These pieces from Ben- Amun will add that extra sparkle to your already glamourous Haute Hippie outfit. Purchase these items on the company website.