Where to Wander This Summer?
06.14.2017
By Rupveen Arora (Mademoiselle Wanderlust), Head of Lifestyle
Follow me @ #wallstreetliving #mademoisellewanderlust7
We all look forward to basking in the sun along an infinity pool or a breathtaking turquoise shoreline. When planning the itinerary for this year's escape, here's a little something for everyone.
Santorini
The black-and-red sands make for a memorable visit to the beaches on this glorious Greek isle. You can then climb the ancient stairs that lead to the historic city of Manolas in Thirassia. Don't forget to catch a breathtaking view of the caldera, a brilliant turquoise pool of water that serves as nucleus for the varied isles of this archipelago. And, the food. Food. Food. The fresh seafood and melted cheese dishes (Feta al Forno) are reasons enough to lure me.
San Francisco – Napa Valley
Though this destination offers year-round appeal, the summer is a spectacular time to hit as many vineyards as possible. Try Castello Di Amorosa (my favorite), Del Dotto (my other favorite), or Ram's Gate Winery. Not far as you head back to the city, make certain to pop into the quaint cafes in Sausalito for breathtaking views of the Bay Area.
St Tropez – Cote d'Azure
French Riviera. Fine Dining. Fabulous Shopping. Yachts, parties, indulgence, oh my. Take my word for it — visit!
Riviera Maya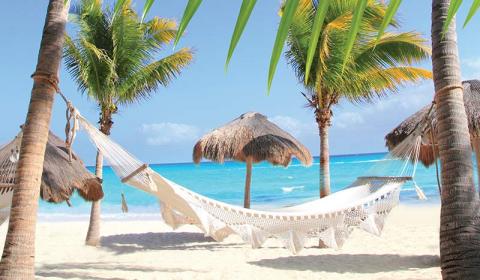 I'd be remiss if I hadn't added my absolute go-to spot any time of the year on this list. Mexico has it all. It's convenient enough to get to from anywhere in the U.S. while still allowing maximum pleasure without the jet lag. The sun is piercing in the summer, so stock up on sunscreen. If you enjoy sports, hiking, food, drinks, great service and fabulous all-inclusive resorts, don't miss out on what this Yucatan peninsula spot offers. You simply can not go wrong.
Crete
I know, I know, I already mentioned Greece. But the palatial Blue Palace (pun intended) is simply one of my best getaways to date. This is the largest island of the Greek Isles, so if you're adventurous, rent a car and trek as far as you can. Riding along the coast and stopping at every beach along the way truly allows you to appreciate all this mega-island is known for. Want some history, no problem: visit Europe's oldest city at the Palace of Knossos. This is the largest Bronze Age archaeological site on Crete. Desire a little 'Opa', find your way to Agios Nikolaous for a little shopping, food and frolic. Crete, for me, did NOT disappoint.
Amalfi Coast
I was in Positano last August and let me just tell you: GO GO GO to Positano this August.
Italian food. Italian wine. Italian shopping. Capri. Blue Grato. Food, food food. Wine, wine wine.
Need I say more.
Mykonos & Santorini
This is where I myself am heading this August and couldn't be more excited. Not only for my love of Greek cuisine and the splendid selection of wines to choose from, the breathtaking views are what I'm after. This place is so heavenly, it needed to mentioned twice (see #1 above). Even though Mykonos is known for a party spot, I've booked a hotel far away enough to attain my much needed rest yet close enough to not miss out. I'm ready for my Greek adventure. Yamas!
These are simply a handful of the many beautiful places one can visit. If you haven't been… BOOK.
Happy Travels.