Where To Watch the 2012 Masters: The NYC/Chicago Edition
04.03.2012
Ah, what timing: with the long holiday weekend comes this year's Masters tournament, and thanks to a resurgent Tiger Woods making things more interesting (yet again), Friday, Saturday, and Sunday are as good a time as any to find a good bar to watch Rory, Angel, Phil, and Ernie battle it out. Here are our top picks.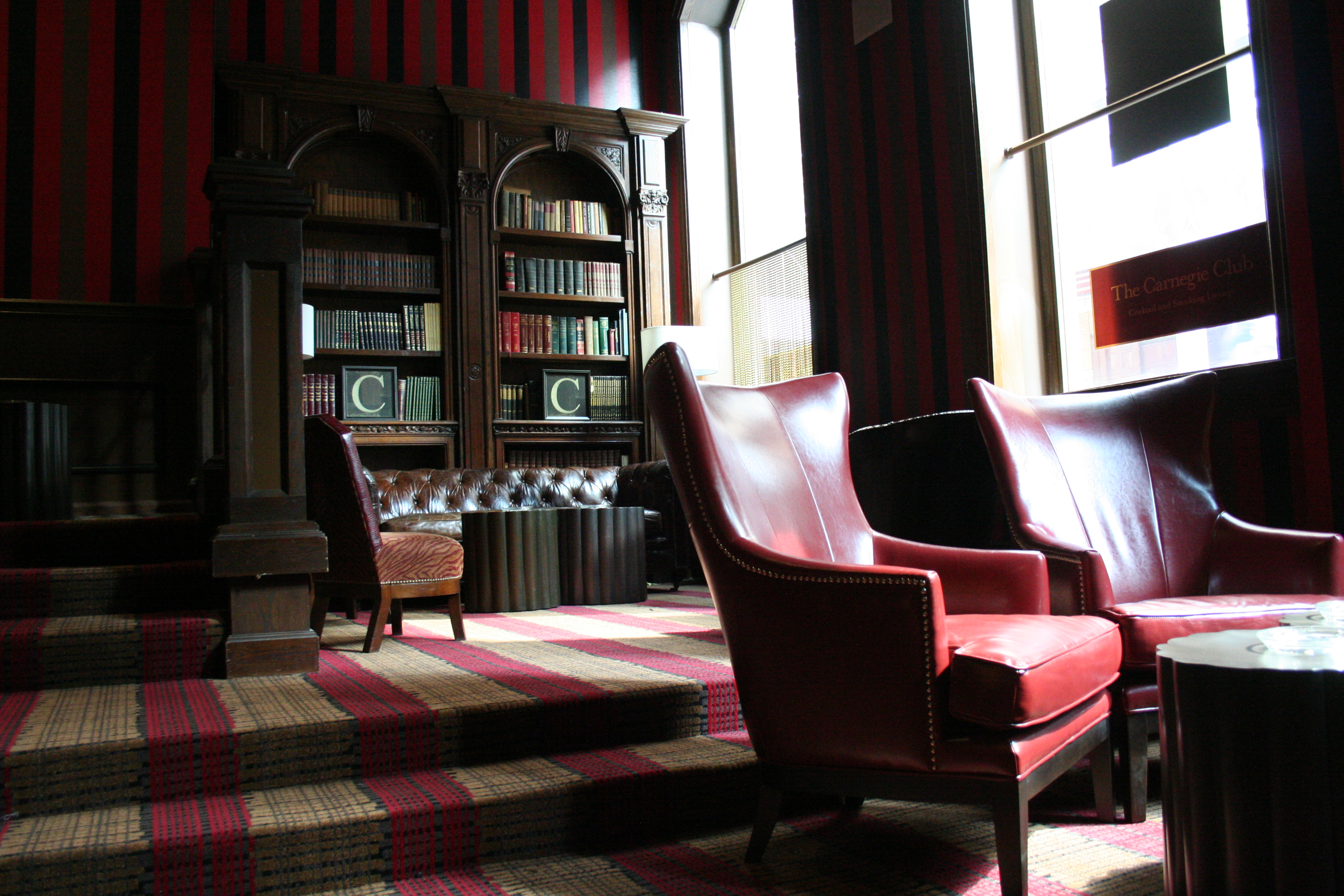 Manhattan's Carnegie Club has cigars, jazz, and Augusta National on the television this weekend.
CHICAGO:
1. The First Tee Fundraiser. Hey, why not kill three birds in one stone? A $40 donation gives to First Tee, a nonprofit that, according to their website, "aims to impact the lives of Chicago area kids and young adults by providing educational programs that promote character development and life-enhancing values through the game of golf". It also gets you a full Saturday afternoon of Masters viewing, food (think meatball sandwiches and sausages), and bottled and draft beers, wine, and liquor to wash it all down. All proceeds from this fundraiser go directly to First Tee of Chicago. Register online. Event is this Saturday, April 7, from 4:00 to 7:00 p.m. at John Barleycorn – Lincoln Park.
2. The Anthem. Wall-size projector screen: check. Mouthwateringly broad assortment of food on the menu: check. Waffle fries, Velveeta-stuffed burgers, pork belly-with-garlic-aioli sliders, The Hungry Man dinner special, and fried twinkies rule the menu, as do healthier options (of course). Not to be outdone, the beer menu boasts 43 different brews ranging from $4 cans to $6 craft bottles, enough to quench the typical beer-loving, golf-playing Chicago local's thirst. The tournament is guaranteed to play here, especially since The Anthem has it listed all week on their Sports Schedule. So have a Left Hand Milk Stout for us, and here's to cheering for you, Not Tiger Woods. 1725 W. Division Street.
3. Public House. To this bar, sports are important, but so is the food. As if someone–namely, Chef David Blonsky–took regular bar food and kicked it up a notch, the menu features items such as White BBQ wings, Multiple Choice Mac & Cheese (you pick the toppings and ingredients), Smoked Kobe Beef Brisket Dip, an arugula & grapefruit salad, housemade pretzels with house-made fondue, scallops in bacon jam (!) and arugula, beer-battered fish & chips, and, incredibly, Maker's Mark gelato. Aside from the eye-popping menu, there are, of course, 27 flatscreen TVs, an 84-inch HD screen, 10,000 square feet, 6 beer sommeliers, and 103 beers in-house. It's like an amusement park for grownups. 400 N. State.
NEW YORK
1. St. Andrews. This Scottish bar, founded by brothers Martin and Mark Whelan, prides itself on its nationalistic authenticity. Servers wear kilts, homemade haggis and cock-a-leekie soup are permanently on the menu, and the bar boasts one of the city's largest collections of single malt Scotches. Though the location is less-than-ideal–it's in tourist-laden Times Square–the restaurant itself plays host to a regular rotation of patrons, all of whom come for the food and drink, the bar's golf-centricity, and its very Scottish staff. Expect an old-world ambience to go along with the warm, wooden interior, and feel free to stay all day, with a dram of scotch, while the Masters unfold. 140 West 46th Street, btwn 6th and 7th Aves.
2. Carnegie Club. One of the last places to light up a cigar indoors, this old-school, gentlemanly bar hearkens back to the days of jazz, jackets required, and leisurely smoking. Under the same management as the group that owns Campbell Apartment, the Carnegie Club is lined with wooden bookshelves and humidors with cushy leather chairs scattered around. A sweeping staircase that leads to a lounge overlooks the main floor, and the bar–long, generously carved, and topped with massive ashtrays–is stocked full-up with single-malts, whiskies, wines, and beers. Belly up here to watch Masters action while soaking in the atmosphere…quite literally. There's a $10 minimum tobacco fee for smokers, and if you're lucky, there will be a live jazz band playing in the background. 156 West 56th Street.
Photo by Jill Futter, Markets Media Lifestyle 2012.