This Week In Live Music: NYC & Chicago
05.08.2012
Over the next seven days, several marquee names are descending upon New York and Chicago, and it is your responsibility to catch at least one of them (and bring a date). Here are our picks for some of the biggest shows to come to town in early May.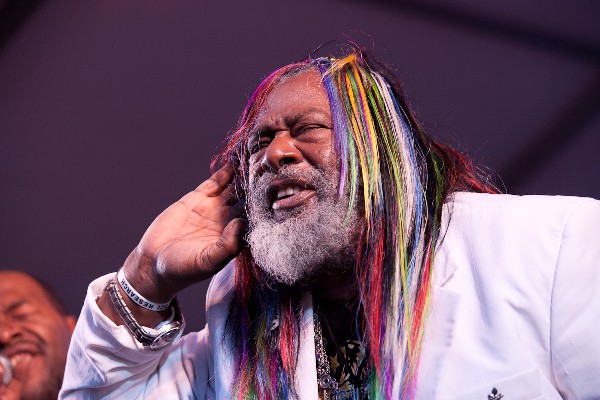 The original Mr. Clinton: George Clinton comes to Chicago on Thursday, May 10
NEW  YORK
1. Edward Sharpe & The Magnetic Zeros, May 9 at Roseland Ballroom. The sound behind hits such as the happy, folksy "Home" and the brooding, romantic "The Book of Love", this California-based band comes to New York to sprinkle a bit of infectious, homespun liveliness in a town that's still a bit sleepy from the winter. Wednesday, May 9, 8 p.m. at 239 West 52nd Street. Purchase tickets online.
2. M83, May 10 at Terminal 5. Having opened for the likes of Kings of Leon, The Killers, and the venerable Depeche Mode, this Spanish-French band steps into their own guitar-heavy, electronica-laced spotlight. Loads of artists have made remixes of their tunes–Daft Punk, Deftones, Depeche Mode among them–but there's nothing like hearing the originals live. Thursday, May 10, 7:00 p.m. at 610 West 56th Street. Purchase tickets online.
3. Rufus Wainwright, May 9 at Brooklyn Academy of Music. The son of folk musicians Kate McGarrigle and Loudon Wainwright III, Rufus Wainwright has long since come into his own, having performed as a musician since the tender age of 14. This week, he comes to BAM to showcase his broad range of musical compositions, ranging from pop to opera. Wednesday, May 9, 8:00 p.m. 30 Lafayette Avenue, Brooklyn. Purchase tickets online.
CHICAGO
1. The Doobie Brothers, May 11 at Akoo Rosemont Theatre. Co-billed later this summer with Chicago, that other legendary classic rock band, The Doobie Brothers, this time with newer members and some older ones, are back on the road with hits such as "Long Train Runnin'", "Black Water", and "What A Fool Believes". Though one of our favorite Doobie Brothers, Michael McDonald, has long gone his own way and, more recently, drummer Michael Hossack succumbed to cancer this past March, the band's perennially loved hits live on with this concert and their coming summer tour. Friday, May 11, 9:00 p.m. 5400 North River Road, Rosemont IL. For more information on how to purchase tickets, visit Eventful or call Akoo Rosemont Theatre's box office at 847-671-5100.
2. George Clinton & The Parliament Funkadelic, May 10 at  Cubby Bear Lounge. Now 70 years old, the ever funkified singer, songwriter, and producer plays on after decades of chart-topping and selling out venues. Influential across all musical genres and having worked with artists as diverse as Tupac Shakur and The Red Hot Chili Peppers, Clinton and his Parliament Funkadelic continue to lay down the law on what's cool, cutting edge, and forever classic. Tickets are a flat charge of $28. Thursday, May 10 at 9:30 p.m. 1059 W. Addison Street, Chicago. Buy tickets online.
http://eventful.com/chicago_il/events/george-clinton-parliament-funkadelic-plus-dj-no-/E0-001-047362844-5