This Week's Beer Events in Chicago & NYC
04.10.2012
This week, we've got Brooklyn Brewery at Morton's, Pennsylvania Beer Night in the Upper East Side, and an evening of Samuel Smith ales in Chicago. Who says Friday the 13th is bad luck?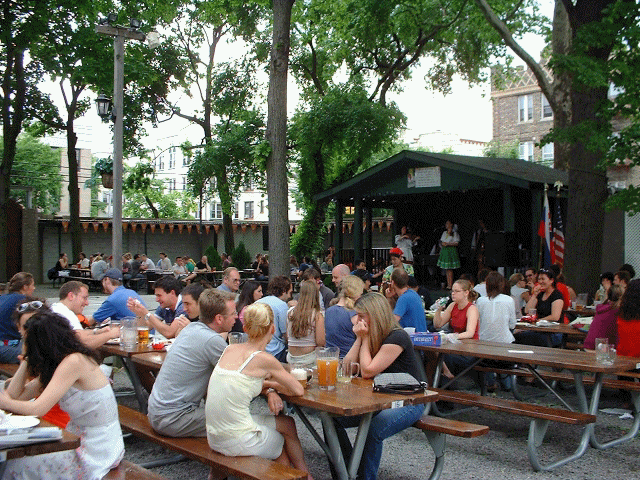 NEW YORK
Weds, April 11: Pennsylvania Beer Night at City Swiggers. Less than a year old, this beer shop and tasting room on East 86th Street has 14 beers on tap (take 'em home in a growler) and rows upon rows of bottled beers, to boot. Starting tomorrow at 6 p.m., City Swiggers will let the Keystone State's brewed creations flow freely: sample beers from Weyerbacher, Victory, Sly Fox, Stoudt's, Troegs, and Penn Brewing. City Swiggers, 320 East 86th Street. www.cityswiggers.com
Friday, April 13: Staropramen Wheat Beer Party at Bohemian Beer Hall. One of the city's oldest beer halls hosts free tastings and $12 pitchers of Staropramen's best wheaty offerings. If the weather's nice, there's no better place to be than in this massive Astoria beer garden…and the brats and kraut isn't too shabby, either. Bohemian Beer Hall, 29-19 24th Avenue, Astoria. www.bohemianhall.com
Friday, April 13: Brooklyn Brewery Dinner Pairing at Morton's. Brooklyn Brewery's Tom Price comes to Morton's Midtown East location to pair five of the brewery's beers with dishes from the popular steakhouse. Sliced tenderloin, lamb chops, oysters, tuna tartare, and chocolate mousse are on the menu, as are Brooklyn Lager, Winter Ale, Pilsner, Sorachi, and Stout. Starts at 6:30 p.m; $45 per person. Morton's Steakhouse, 551 Fifth Avenue. Purchase tickets online.
CHICAGO
Wednesday, April 11: North Coast Brewing Company at Monk's Pub. This Fort Bragg, California-based brewery brings its wares to Monk's for a happy-hour tasting from 5 p.m. to 7 p.m. Revel in the pub's historic memorabilia and old-world medieval feel while trying out North Coast's wide variety of brews, from stouts, to pilsners, to ales, to IPAs. Bonus: Monk's menu has twelve–yes, twelve–varieties of hamburger. 205 West Lake Street.
Friday, April 13: Lakefront Brewery Night at Silver Cloud Bar & Grill. Lakefront Brewery's co-founder, Jim Klisch, will be on hand as Silver Cloud features his $5.50 drafts of his Lakefront White, an orange-y wheat beer (minus the spice). Silver Cloud is one of a handful of bars in town serving up this Milwaukee-bred beer. Runs from 8 p.m. to 9 p.m. 1700 North Damen Ave.