At Wimbledon, Players Come And Go, But Pimm's Cup Stays
06.28.2012
There seem to be certain prerequisites before an athletic tournament can gain the status of "iconic" or "historic": first, it must host a sport with blue-blooded roots; second, the event must be located on, shall we say, hallowed grounds; and, third, it must slake its attendees' thirst with a coolly sweet cocktail based on a native spirit. Hence, we have the Kentucky Derby with its mint juleps and Wimbledon with its Pimm's Cups.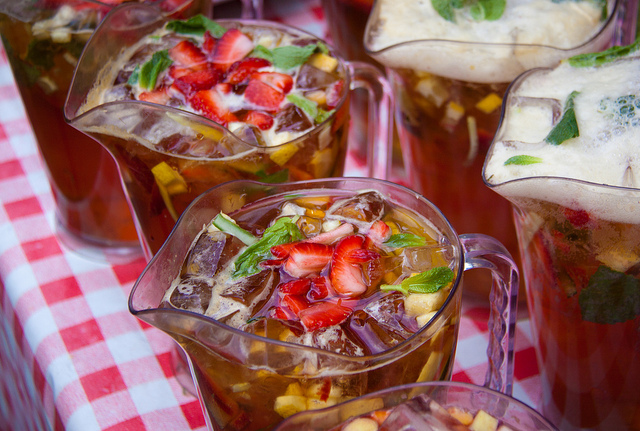 Keep it simple: Pitchers of Pimm's Cups at London's Borough Markets.
Created in 1823 by James Pimm, the gin-based drink gained popularity as a digestif served in a metal tankard–hence its name, the No. 1 Cup. Pimm's variations of the quinine and herb-infused concoction soon followed, eventually growing to seven "cups" ranging from brandy, to scotch, to vodka. Of all these, only No. 1 (gin) and No. 6 (vodka) are still in production.
By the beginning of the 20th century, the Pimm's Cup–the cocktail, that is–had become nearly as popular as tea in the United Kingdom; by 1971, it had cemented itself into the national spirit, if you will, by opening a vending stand at the All England Club's annual tennis tournament: Wimbledon.
Since then, there have been what seems to be a million variations on the drink: some use ginger beer, others, ginger ale; fruits ranging from pineapples to passion fruit to grapefruit have been used. It's a testament to the welcoming flavors in the spirit that so many diverse ingredients have been introduced–with good results–to the cocktail over the decades.
The classic, however, remains untouched in its fizzy, flavorful simplicity, using classic ingredients easily acquired in Britain. With predominant notes of strawberry and mint, it's no wonder that the Pimm's Cup has become as much of a Wimbledon classic as champagne and strawberries and cream.
Pimm's Cup: The Classic Recipe
2 oz. Pimm's No. 1
4 oz. English fizzy lemonade or lemon-lime soda
2 slices cucumber
1 strawberry, sliced
1 slice apple
Mint sprig, for garnish
Serve in a Collins glass or a white wine glass with ice.