Women in Finance Awards Q&A: Laine Litman, Virtu Financial
11.22.2021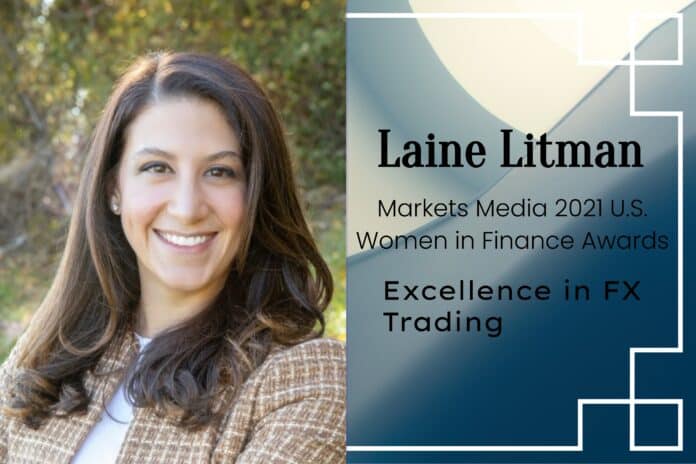 Laine Litman, Head of FX and FI at Virtu Financial won Excellence in FX Trading at Markets Media Group's 2021 Women in Finance (U.S.) Awards.
What have been the main drivers of your success?
I think for women, especially those who choose to also be mothers, it is nearly impossible to succeed if you don't have support at home from a spouse or partner and if you don't have the support from the firms' top level management. Doug, our CEO, never viewed me differently because I was pregnant or a mom; he presented opportunities to me and let me decide what I wanted to take on. Once I committed to tackling them, having done sports my whole life, I never wanted to let the coach or team down and so I always put my best foot forward.
How would you describe your work/management 'style'?
I think I am a mix of intense, but also always trying to get in some laughs. I expect a lot from people I work with, just as I expect a lot from myself. I speak my mind, but also aim to include and be mindful of others opinions.
What keeps you motivated?
Working with a team you enjoy is great, but winning is always fun. I love coming across new opportunities and challenges and determining how to tackle them and progressing to completion (even if the target moves along the way). Also, as my number of mentees has expanded… I feel that I owe it to them to progress, prove myself and demonstrate that women can succeed in this industry without losing their sense of family or self.
Who have been the main influences in your career?
My mom always pushed me to be excellent in everything I did. My first manager, Brian, always pushed me to be curious and develop the mentality of 'I can figure that out'. Another manager, Samantha taught me to be passionate about my work. Doug, our CEO, encourages employees to bring their authentic self to work daily. At Virtu, I draw influences from a lot of people within the firm and aim to learn and grow from those.
What are your future goals?
I hope I can continue to learn, teach, grow in all attributes and contribute in meaningful ways both at work, home and the community.
What's your advice to the next generation of women in finance?
Learn to be fearless and know your worth.
What is the importance of promoting Women in Finance, and/or Diversity & Inclusion, initiatives for an organization? Is it a "nice to have" or a "must have"?
Diversity and Inclusion (which includes women) is a must have. Diverse backgrounds and thought paths lead to more thorough plans and more successful outcomes. This covers women, race, sexual orientation and abilities. I truly believe that those who don't have initiatives and aim for inclusion will be left behind and not obtain top talent.
How would you describe the current landscape for WIF and/or D&I, in the finance industry? How has it evolved?
The focus of DE&I is much more on inclusion as opposed to forcing others to fit. I remember early in my career being told I had to keep an extra pair of tights in my drawer in case the ones I wore snagged (unclear how this is career guidance). Or that as a female I should discuss things always in context of the 'team' and 'we' and as a 'suggestion' so that I came across as less aggressive to men. Now there is more education on unconscious biases and an effort to include people, not force their behaviors to fit a mold.
What progress still needs to be made, in terms of financial firms adopting advocacy of WIF and/or D&I as an ethos? What are the challenges?
While a lot of firms promote women in finance, they aren't actually inclusive of mothers or parents. Until there is proper firmwide culture support for involvement at home, flexibility needed for BOTH parents, then women aren't actually supported. Firms that demand specific office locations, which might take 2+ hours each day to commute to and from isn't inclusive and leads to choosing between being involved in family or working. There needs to be a balance between a central office and an office that is amenable to living situations more desirable for families. Virtu supports and promotes this- with a NYC office, and a couple suburban offices. Most financial Institutions do not and it perpetuates the choice between involved parent and employee.
What has Virtu accomplished in the area of WIF and/or D&I, and what are current initiatives?
From the moment I met Doug, he has worked to ask, listen, understand and include women. He's continually led by example and even determined Virtu needed a DE&I committee, which was founded by Erin Stanton and Pegah Esmaeili. Within that DE&I committee we have subgroups that focus on Gender, Race, LGBTQIA+, Differently Abled and Veteran communities. We work to educate the broad firm and include.
How does Virtu measure success in WIF and/or D&I?
We have looked at how we recruit and firm policies to ensure we provide opportunities and include the various groups within our DE&I. We don't believe in quotas (this helps prevent women like me being told they are only in a role/position because a female was needed) but we regularly look at our practices and self-reflect on how we can be better as a firm.
What is the future of WIF and/or D&I, both at Virtu specifically and in finance more broadly?
I think the market continues to acknowledge the requirement for attention to inclusion of diversity and the benefits it brings to the firm. As it is an advantage, as well as a way to get talent, I think firms will continue to work to understand diversity and include it in their workplace.