At 2012 NY Auto Show, Luxury Cars Showcase Sustainability and Performance
04.04.2012
Ahead of the New York International Auto Show's general public kickoff this Friday, April 6, Markets Media Lifestyle delves into the best and brightest that this year's exhibit has to offer. Earlier this week, we previewed cars we were most excited about; this time, we go in-depth with automakers as they introduce their babies to the media. Keep an eye out for our next–and final–Auto Week piece, which will showcase our favorite car photos from the show.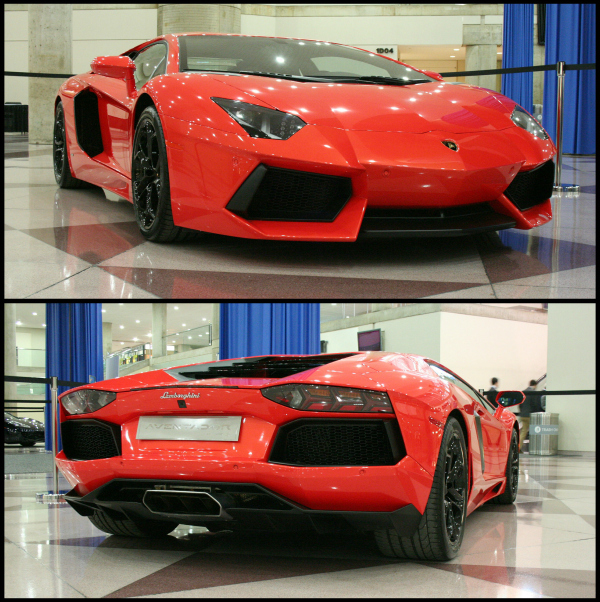 Move over, Murcielago: Lamborghini's new flagship, the Aventador, is faster, lighter, and, as is Lambo's tradition, named after yet another championship fighting bull.
The press queue at the Jacob Javits Center on the early morning of April 4 was a cacophony of journalists: some greeting old friends, others busily conducting meetings on mobiles, a few grumbling about the cold scrambled eggs. It was, of course, nearly impossible to not acknowledge the welcome–and distracting–presence of an all-black McLaren MP4 (Bruce Wayne, meet your match) and a fiery, deep orange Lamborghini Aventador parked merely yards away.
Such is the theme for most auto shows: which cars are the fastest, the lightest, best-looking, most expensive? There's the Bentley Continental, imposingly proportioned and never to be underestimated; the pristinely hawklike Lexus LFA supercar in all of its $375,000 glory. Everywhere, performance luxury cars abound: see the Mercedes SLS AMG, gullwings up in simulated flight; a canary yellow Porsche 911 Carrera, as stubbornly rear-engined as ever, but in 2012, so much more driveable. Audi's speedy R8 convertible, in matte powdery blue, accompanies a beautiful woman clad in a breathless black dress, while Jaguar's XK coupe is sleek and demure in British racing green. Range Rovers and Land Rovers, brand new and vintage, reside together; meanwhile, the opulent-as-usual Bugatti Veyron stands by, ever-ready to awe attendees with its unattainable power and stunning looks (this year, we get to see the custom-made Blanc Noir, which is–you guessed it–in black and white).
As impressive as these cars are, what soon became conspicuous is a theme (intentional or not) that began with Nissan/Renault CEO Carlos Ghosn's keynote speech at breakfast: the partnership between sustainability and performance. Ghosn, discussing the importance of eco-friendliness as a part of the Nissan/Renault strategy, said, "I think the electric car will hold its promise…I am not at all changing my bullish approach." And bullish he is: Ghosn went on to describe the growing–and steadily evolving–car battery industry, which in recent years has seen a rebirth as demand for green technology has surged far beyond Toyota's and Honda's pioneering efforts (the Prius and Insight, respectively).
Indeed, the luxury auto segment has picked up on this growing demand and is responding accordingly. In one of the first press conferences of the day, Mercedes-Benz emphasized its freshly evolved BlueTEC diesel technology, which uses a more refined type of diesel (not the choke-in-the-smoke 1970s type) and an engine with better fuel efficiency and lower emissions, thereby fulfilling the the EU's stringent emissions standards. Interestingly, its AMG line, whose anniversary SL-65 AMG the company feted with a live dancing horn band at the press conference, will not be adopting BlueTEC technology anytime soon.
BMW–that other luxury auto giant from Germany–raised Mercedes-Benz one better. "For us, sustainability and performance are one and the same," said Ian Robertson, the dapper head of sales and marketing for BMW Group. "Sustainability is a large part of our future," Robertson continued, going on to discuss the New York-based BMW i project, which focuses solely on developing sustainable, alternatively fueled vehicles. Currently, the project has two concepts: the i3, a 4-door hatchback powered completely by electricity, and the i8, also an electric car. Both are meant not only to utilize green technology, but also to produce impressive performance. Its ActiveE, in production this year with 700 (highly coveted and reserved) units, is completely electric and, since it has no gearbox, has the capability to provide consistent, uninterrupted amounts of torque at any speed, though acceleration has a bit of work to do, going from naught to sixty in a little under 9 seconds. An overnight charge, most likely for about 8 hours, enables drivers to travel for approximately 100 miles, making the ActiveE a desirable option for those who mostly commute from home to office. Another BMW alternative, the Active Hybrid 5, utilizes gas power along with electric, which gives it relatively zippy acceleration: zero to sixty is in 5.7 seconds.

Let there be light: Lexus's Mark Templin gives the hybrid ES300h a hearty (and sparkly) welcome.
Not to be outdone, Lexus, the king of hybrid technology (parent company Toyota pioneered the Prius back in the 1990s), debuted the 2012 ES300h, its latest entry-level hybrid. Mark Templin, group vice president and general manager, introduced the four-door sedan, emphasizing its improved performance, comfortable size, and greater gas mileage. Templin also mentioned that Lexus plans on having 8 different hybrid vehicle options for consumers by 2014–far more than any other luxury manufacturer.
Of all these automakers, none have invested its entire company on sustainable luxury cars–not the way Fisker Auto has. In an interview with Markets Media Lifestyle, Roger Ormisher, Fisker's Director of Global Communications, described the Anaheim, California-based carmaker as "fully invested in sustainability…it is our philosophy, and it goes into everything that we do". Indeed, everything about Fisker–from its cars' rooftop solar panels, reclaimed-wood interior, the absence of leather, the upcycled glass flecks in their paints rather than metal, and even their solar-powered car dealerships–is eco-friendly. The company's main goal is to provide performance, luxury, and sustainability, and with the Karma, its flagship (and first vehicle) and the smaller, 4-door sports sedan, called Nina (soon to be renamed the Atlantic) it just might do that: while the Karma is priced at upwards of over $100,000, the Nina/Atlantic is positioned to have an MSRP of about half that, making it competitive with the likes of BMW's 3 or 5-series and Mercedes-Benz's C or E-classes. Fisker's offerings have a unique blend of hybrid technology, which allows the driver to choose whether or not to go fully gas, fully electric, or blend both. This means that should you forget to charge up your battery overnight, you'll still be able to get to work on gas power the next morning (provided that you've wisely filled up the tank, that is). While the technology is clearly still in evolution–Fisker is coming out of a minor dustup involving now-recalled faulty batteries in the Karma–the California upstart is determined to get the luxury-performance-sustainability equation right. "It's a brand-new technology, and in bringing any technology to market, there will often be initial obstacles to overcome. A lot of our customers are early adopters–they're almost like our test-drivers, in a way–they're very engaged and give feedback. We talk to our customers on a regular basis, and they're very excited to be on the cutting edge of technology", Ormisher explained. Currently, Fisker has sold over 700 Karmas in North America, and according to Ormisher, the car is doing very well in emissions-allergic European countries such as the Netherlands, Germany, and Italy.
Lest our glasses get too rosy: while it is comforting to know that luxury manufacturers are now embracing alternative-fuel technology while maintaining performance, a lot of these evolutions still have some, well, evolving to do. Lexus's ES300h, while a hybrid, still only pulls in a not-so-jaunty 40 mpg. That would barely pass muster outside of the United States. And BMW, with its heartening i Project, still has more work to do before its concepts become reality, and until the ActiveE car becomes more widely available, the sustainable-performance vehicle will not be in full force any time soon. Understandably, the luxury market has not always traditionally been open to "green" cars, but to paraphrase that baseball movie with Kevin Costner in it: if you build it, they will come.