CME to Expand Crypto Suite
02.09.2022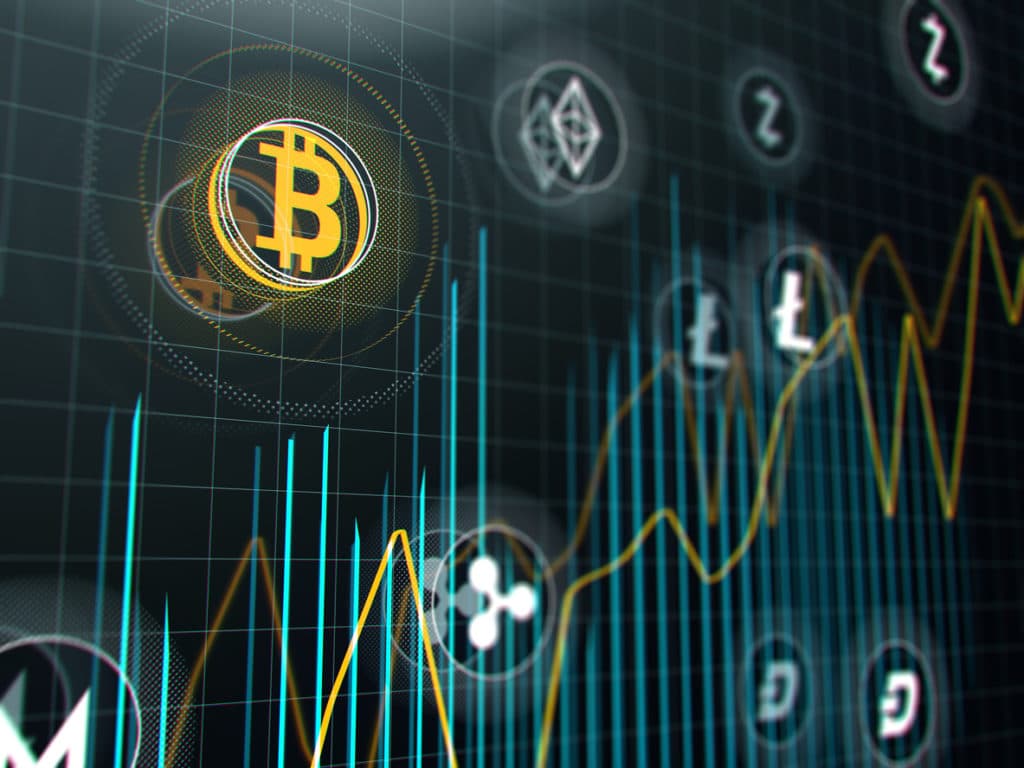 CME Group said it will be expanding its cryptocurrency products as the exchange's Bitcoin and Ethereum derivatives contracts reached record average daily volumes in January 2022.
Sean Tully, global head of financial and OTC products, said on the CME results call on 9 February that crypto futures reached a record 57,900 contracts in January this year, an increase of 229% over January 2021.
CME also reported that Bitcoin futures reached a record average daily volume in 2021 while Micro Bitcoin contracts reached an all-time high in the fourth quarter of 2021, after launching in May.
Micro Ether futures launched on 6 December 2021 and surpassed 100,000 contracts traded within the first two weeks. On 24 January 2022 Micro Ether futures reached a new daily volume high of 51,450 contracts with open interest of nearly 75,000 contracts.
Tully said: "We have a very strong new product pipeline across the financial asset class and in our crypto area. We will be announcing those as appropriate and as we get regulatory approvals."
Julie Winkler, chief commercial officer at CME Group, said on the call that the group launched more than 75 new products in 2021 and the success rate has been trending higher. During 2021 new products launched since 2010 generated approximately $500m in revenue, up 30% year-on-year.
"When we looked at crypto activity in January versus the first quarter of 2021, we saw double-digit participation from the buy side," she said. "A key value proposition of our crypto suite is that we are highly regulated and this is attractive to buy-side clients looking for access to that asset class."
In addition, crypto products are bringing new customers to CME. Winkler said: "Over two million visitors came to our website to look at our crypto offerings and it is driving thousands of new leads. We are supplementing that with crypto events, social posts and digital media."
Terry Duffy, chairman and chief executive of CME Group, said on the results call that digital assets are here to stay and the group's role is to facilitate risk management of these products.
Ether futures (ETH) celebrate a remarkable first year with over one million contracts traded, demonstrating strong customer interest and adoption since launch. https://t.co/TitMACA44w pic.twitter.com/mpvG9i1beU

— CME Group (@CMEGroup) February 8, 2022
"We are looking to roll out new products which we have not announced, but we have been successful in the ones we have to date," Duffy added. "We want to maintain our presence in the listed regulated market and will wait and see as to how it relates to the cash market."
Google Cloud partnership
In November 2021 CME and Google Cloud announced a 10-year strategic partnership to accelerate the exchange's move to the cloud and transform how global derivatives markets operate. Google also made a $1bn equity investment in a new series of non-voting convertible preferred stock of CME Group.
CME Group will migrate its technology infrastructure to Google Cloud beginning this year with data and clearing services, and eventually moving all of its markets to the cloud. On the results call management said migration planning had started and several teams are engaged in the first phase. They are working with Google to conduct an analysis of business needs, systems and capabilities to create a roadmap for both 2022 and on a multi-year basis.
Sunil Cutinho, president of CME Clearing, said on the results call that the business is aggressively focused on migrating clearing and enterprise business applications to the cloud.
"As far as clearing applications are concerned, we are focused on moving foundational services to the cloud," Cutinho added. "One key client-facing service that we intend on delivering this year is CME's margin calculator."
Migrating to the cloud will allow clients to run calculations on demand and in real-time.
Winkler continued that CME has been engaging with customers since the Google Cloud announcement and they have highlighted the need to prioritise managing risk in real time.
She added that the cloud also presents significant opportunities to deliver data to customers in new ways. The exchange already offered market data feeds through native Google Cloud Platform services via CME Smart Stream.
"We have 25 global customers that are in production and about 70 more in the pipeline," said Winkler. "We are planning an acceleration of the data and products that we put within Smart Stream."
In addition, CME will be looking to use Google tools such as BigQuery when offering large datasets to customers.
John Pietrowicz, chief financial officer at CME, said on the call that the group expects to invest an average of $30m per year for the next four years on the migration, after which CME expects to be in a net positive cash spending position.
Pietrowicz highlighted that the partnership includes an innovation workstream to identify a number of new business opportunities with Google and to dedicate resources to pursuing those on an accelerated basis.
"Google has invested significantly in their technology footprint, and we get the benefit because this is a partnership versus a client- vendor relationship," he said.
Environmental portfolio
Derek Sammann, global head of commodities, options and international markets, said on the results call that CME is creating a new environmental products portfolio.
"This portfolio aggregates the full range of our existing and planned environmental and sustainability linked products such as our market leading global emissions offset contracts, biofuels such as ethanol and other renewables and battery metals like cobalt and lithium, and will serve as a catalyst for continued expansion across asset classes in this rapidly evolving space," he said.
On 8 February 2022 CME Group announced it will launch CBL Core Global Emissions Offset (C-GEO) futures on March 7 pending all relevant regulatory reviews. CBL C-GEO futures are intended to align with the Core Carbon Principles, an emerging set of transparent and consistent standards around the supply of carbon credits to be overseen by the Integrity Council for the Voluntary Carbon Markets.
Sammann said: "This is a rapidly evolving space based on the commitments that global companies have made to sustainability and managing their carbon footprints."
In 2021 CME cleared more than 47 million carbon offsets through its voluntary emissions offset contracts – Global Emissions Offset (GEO) and Nature-Based Global Emissions Offset (NGO) futures. The exchange said GEO and NGO futures have established themselves as the pricing benchmarks for the international Voluntary Carbon Market.
"The carbon products that we launched last year have been a tremendous success in a cash market that did not exist two and a half years ago," Sammann said.
He described the carbon trading market as in an early stage of development.
"We are going to see this increasingly become a portion of every global company's risk management toolkit," Sammann added. "This will be a slow build and the energy transition could be decades long."
In December 2021, GEO futures delivered 2.43MT of CO2 reductions from 30 projects in Africa, Asia and North America and NGO futures delivered 3.49MT of CO2 reductions from 17 projects in Latin America and Asia. Learn more about the carbon offset market. https://t.co/n1vk0q6CoH pic.twitter.com/85i7i24UlD

— CME Group (@CMEGroup) January 27, 2022
Tully added that CME hosts the world's largest environmental, social and governance contracts -S&P 500 ESG index futures – which have reached an open interest of more than $4bn in notional value.
International business
Sammann took over responsibility for the international business in November 2021.
He said: "I'm excited to optimize the team structure and mandate to ensure that we can continue to deliver outsized growth outside the US and unlock the next leg of our global growth story."
Nearly one third, 29% of total volume comes from outside the United States, generating close to 38% of group revenue and 28% of electronic trading revenue.
Sammann continued that growth in options volumes was accelerated by the continued global adoption of CME Direct, an electronic front end, which hit a record number of active users in 2021.
"We are very pleased with the continued success of our non-US business and with 2021 revenues in excess of $1.1bn" he added.
Non-U.S. average daily volume for full-year 2021 reached a record 5.5 million contracts, up 4% compared with the same period in 2020.
Results
CME Group reported that total revenue for full-year 2021 was $4.7bn and operating income was $2.6bn.
Duffy said: "We achieved record trading volume in 2021, driven by client demand for tools to hedge against continued economic uncertainty across markets. We are pleased 2022 is off to a strong start with our highest January average daily volume on record of 24.6 million contracts, led by strong equity index and interest rate volumes, including numerous SOFR futures and options records, and 10% year-over-year growth in overall open interest."