Cocktail Hour: What To Make For The 4th of July
07.02.2012
Grill: check. Beer: check. Sunblock: check. Augment your list of Independence Day essentials by brushing up on your cocktails–especially ones based on good ol' American spirits.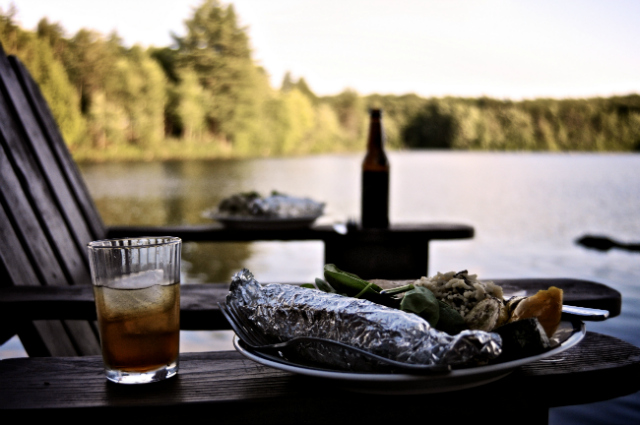 Bourbon old fashioned, grilled corn on the cob, and steak. Happy 4th!
1. Bourbon Old Fashioned. Invented in Louisville, Kentucky, this classic is simple, potent, and a necessity.
– 2 oz bourbon whiskey (we recommend Maker's Mark or Bulleit Bourbon)
– 1 tsp water
– 2 tsp simple syrup
– 2 dashes angostura bitters
– 1 slice orange
– 1 maraschino cherry
In a rocks glass, pour in simple syrup, water, and bitters. Add ice to fill, then pour bourbon over ice. Top with maraschino cherry and add slice of orange for garnish.
2. Mint Julep. A southern basic, this cocktail is extra popular at the Kentucky Derby. Refreshing, sweet, and minty, it's a summer surefire success.
– 5-6 mint leaves
– 1 tbsp. simple syrup
– 2.5 oz. bourbon whiskey
– crushed ice
Crush mint leaves with simple syrup at the bottom of a glass until the mint bruises slightly. Fill the glass with crushed ice and add the bourbon. Stir gently, garnish with a mint sprig, and serve in a pewter cup or old-fashioned glass.
3. Sazerac. This old New Orleans classic has an earthy charm of its own. Enjoy with an extra-chilled glass.
– 1/4 cup rye whiskey
– 1 piece star anise (or 1/4 tsp. star anise flavored syrup)
– 1/2 teaspoon white sugar
– 1 teaspoon water
– 2 dashes Peychaud bitters
Store a cocktail glass in the freezer for 15 to 20 minutes. Add sugar, water and bitters to the glass, stirring to dissolve. Stir, drop in the star anise, and enjoy.
4. Manhattan. This grown-man cocktail is a must-have for when the 4th of July barbecue settles in for the night.
– 2 ounces bourbon
– 1 ounce sweet vermouth
– Dash of Angostura bitters
– 1 maraschino cherry
Stir the bourbon, vermouth, and bitters in a pitcher half filled with ice, or shake them with ice; then strain into a chilled cocktail glass. Garnish with a maraschino cherry.
5. Apple Jack. It's hot out. Kick up a sweet, cold juice with a bit of Tennessee whiskey.
– 2 oz. Tennessee whiskey (Jack Daniels, Prichard's)
– 2 oz. apple juice
Pour apple juice into an ice-filled rocks glass. Top with whiskey.