Goldman Spies Low Carbon Opportunities 
12.01.2015
The GS Sustain research team at Goldman Sachs said 2015 is shaping up as a watershed year for the low carbon economy as the Paris conference on climate change started this week.
Goldman Sachs said in a report that this year is likely to be a milestone as wind and solar are on track to exceed 100 GW in new installations for the first time. "This is not the beginning of the end for fossil fuels; but marks the end of the beginning for the low carbon economy," added the bank.
The firm sees a revenue opportunity of more than $600bn per year in the emerging low carbon economy and said long-term investors with a global outlook should focus on a number of key trends – LEDs, solar PV, onshore wind, and hybrid & electric vehicles. They are the likely winners as market share is likely to increase from 28% in lighting to 69% by 2020, from 20% in new power generation to 51% by 2025 and from 3% in autos to 22% by 2025.
"In autos, the Volkswagen scandal has highlighted growing emissions-related compliance and reputational risks," said the report. "In coal, the market cap of the top four US coal companies has dropped by over 90% in 2015 as they have struggled with a combination of cheap gas, renewables, emission regulations and weak exports; and in the UK, the government has announced that coal-fired power generation will cease altogether by 2025."
The growth of the low carbon economy is expected to be similar to other sectors which have faced technological change such as retail.
"A shift in technology can place a strain on market incumbents, lowering their margins and forcing them to make large investments in rapidly evolving technologies," said Goldman Sachs. "It also often attracts a new set of competitors, often with radically different business models."
In addition there are increasing emissions-related compliance costs and reputational risks across carbon-intensive heavy industries such as cement, steel, chemicals, and paper & pulp. "We believe that this is also an increasingly important factor in consumer-facing businesses with large carbon footprints such as airlines, where reputational risks can be material," the report added.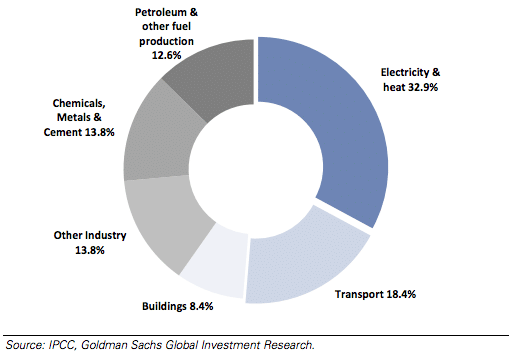 Last month the World Federation of Exchanges recommended 34 environmental, social and governance metrics that companies listed on member exchanges should voluntarily disclose – including energy consumption, water management, chief executive pay ratio, gender diversity, human rights, child and forced labour, corruption and tax transparency.  In September the United Nations had released model guidance on ESG reporting for use by global stock exchanges.
Ceres, a non-profit organization that advocates for sustainable business practices, said it welcomed the guidance from the WFE which will strengthen global reporting standards. Mindy Lubber, president of Ceres, is also director of the $13 trillion Investor Network on Climate Risk.
"While this initial guidance does not solve all ESG reporting challenges, it does take the capital markets in the right direction of more consistency, comparability and better quality information—something that was a key priority for investors in our network," Ceres added.
Ceres said it would be gathering investor comments on the new guidance and provide feedback to the exchanges on whether investors want mandatory reporting. The CFA Institute, an association of investment professionals, has found that 61% investors want public companies to report at least annually on sustainability indicators.