Speed Bump Wars Ahead?
08.05.2016
If you can't beat 'em, join 'em.
That's the approach NYSE Group and Nasdaq may take with IEX Group, which plans to go live as an exchange later this month.
IEX differentiates with a 350-microsecond 'speed bump', which is meant to negate the advantage of the highest-speed electronic traders and provide long-term investors and other market participants with a cleaner trading experience.
To be sure, while IEX has been prominent in the news since being featured in a widely publicized 2014 book, it has only garnered market share of about 1% to 1.5% as an alternative trading system. Becoming an exchange may prove to be the boost it needs to compete more seriously with NYSE, Nasdaq and Bats Global Markets, but it remains to be seen whether that will happen.
Where IEX has beaten the incumbents was earlier this summer, when it won the U.S. Securities and Exchange Commission's blessing to become an exchange. The large exchange operators had opposed the IEX application, partly on grounds that the speed bump would add complexity to an already complex market structure.
But with IEX's exchange operations imminent, rivals are looking more practically at what they need to do to compete. And that may include installing their own speed bumps.
Just last week, Nasdaq Chief Executive Officer Robert Greifeld said the exchange operator has been asking customers what changes they'd like to see on Nasdaq's platforms, with a speed bump being one of the options. NYSE Group President Tom Farley had previously signaled a similar willingness to explore adding a processing delay.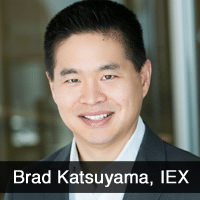 IEX CEO Brad Katsuyama expressed skepticism that the incumbent exchange operators are serious about speed bumps.
"When their business model is predicated around bringing people as close to the exchange as possible, it would be a bit of a head scratcher if they charge to put you on the other end of a speed bump," Katsuyama told Markets Media in a July 25 interview. "If you see them try to do it, it most likely will be a half-hearted attempt on a venue that's irrelevant."
"If New York Stock Exchange puts a speed bump on Arca, or if Nasdaq puts a speed bump on Nasdaq, that would be significant" he said, referring to the operators' flagship venues. "But drumming up some defunct exchange and sticking a speed bump on it, I don't think that's really a move towards servicing the investor. We'll just see what they actually do."
Katsuyama noted that the SEC would need to evaluate any proposed speed bump, and it would be a sticking point if the processing delay was applied only to certain market participants. IEX's speed bump applies to all participants and is meant to deter only a narrow subset of participants, he added.
"For speed bumps that apply only to one segment of the market or you slow some orders down and not others, the SEC will look at that and may take issue with it," Katsuyama said. "Each effort has to go through the same process that IEX just went through."