Summer C-Level Series: Tony McCormick, BOX Options Exchange
07.01.2014
What have been the main themes of your business so far this year?
On the industry side, a couple of things have been thematic. One is all the scrutiny around the 'Flash Boys' book and subsequent Congressional testimony, and then some of the issues around dark pools. That's created sort of an overflow into the options world, as there's been testimony around payment for order flow, disclosure about the quality of the market, and what best execution really means.
So I think there's going to be more to come in the next six months. It's unknown whether the SEC will step up and take a harder line about what they'll allow and how much scrutiny there will be, but from the standpoint of the exchanges, almost all of them provide price improvement.
If you improve the order, the customer gets the direct benefit — that's always been our hallmark. We were the first to introduce price improvement in our PIP process. We're continuing to enhance that and trying to drive more business into PIP and less around payment for order flow.
What has surprised you so far in 2014?
One big surprise that has affected market volatility is the bond market. It seems like almost everybody got interest rates wrong this year so far. Everybody in December and January was thinking rates were going to make a move up. At the time they were around 3, and people were talking 3-1/2, maybe 4 for the 10-year. That's back at 2.5 and nobody really knows if it's going to go higher or lower. My suspicion is that it will creep back up, but everybody has had it so wrong, it wouldn't surprise me if it went to 2. That would be not good for volatility.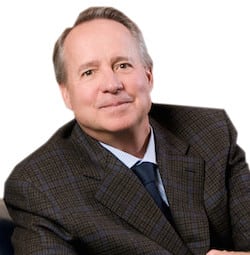 From a market standpoint, it seems like it's a takeover-type market, as the momentum names have slowed down to a certain extent. There's a lot of leadership coming from the combinations and mergers that are going on. It's almost like you have to subscribe to a service that shows you the on-balance volume and call buying — when you see a big move in that, just jump on board and figure that somebody is telegraphing something.
One thing that disturbed me was a recent study that said 25% of call volume was somehow linked to transactions that occurred after the calls were bought. In other words there was information being telegraphed by somebody that knew something.
We're going to stick to what we do best, which is price improvement. We're doing a little modification to some other things in our model. We're going to introduce what we call variable pricing for the liquidity side, so there is different economics around whether a market maker trade against a pure customer or a professional customer or another market maker.
Another thing we're looking to do is reorganize our shareholders and try to bring in some dedicated order flow based on re-balancing of who owns the exchange. We have some very good shareholders like TMX, who is our primary shareholder, but they can't send us one contract because they're another exchange.
What are your expectations for the duration of 2014?
I think there's going to be more regulatory scrutiny and more emphasis on risk controls. We're seeing that from both the SEC point of view and now the OCC becoming more active in what they expect from exchanges, and, quite frankly, even some of the liquidity side of the market is chiming in, like Goldman Sachs and Merrill Lynch saying, "Hey, we're all in this boat and we have to make sure the boat is pretty safe when the water gets rough." We want to make sure if there are any holes in the boat we know about them because you're always subject to the lowest common denominator, so that's where we want to determine where the weak points are, and they're pushing pretty hard on that.
We've had some discussions with them, and they started that at the Options conference. They had a little informal get-together where they said, "We want to understand what we can do to improve the overall environment because we feel like we're subject to that risk. Even if we have the best controls, we're subject to the person who has the worst controls." I understand that argument.
Featured image via yellowj/Dollar Photo Club