Best Steak au Poivre in NYC!
03.03.2016
By Rupveen Arora (Mademoiselle Wanderlust), Head of Lifestyle
Ask Mademoiselle. Follow on Instagram
---
If you know anything about French bistros and Steak AP, you have definitely been to Raoul's. One of my favorite low-key, any-night-of-the-week spots (must return ASAP), this 40-year-old Soho staple appropriately resides on Prince St., as the French cuisine is fit for a prince. The extensive wine list, exceptional service, late-night bar crowd, and the bohemian atmosphere will always remain a true love for those loyalists who consistently return to Raoul's. The walls are covered with nudes, tin ceilings and jazz portraits. The tubular stairway leading to the restrooms allows for a pit stop to have your Tarot read by a fortune teller, been there done that (don't judge).
The most popular dish must be the Steak au Poivre ($48) and following in a close (very close) 2nd, the famous Raoul's burger, which is made in limited quantity and only served at the bar. If you're up for it, try both in one go! These dishes literally make my heart skip a beat.
Keep reading for an inside look with owner Karim Raoul. (Appreciated much more than you know!)
How does it feel to have one the most loved classic Parisian Bistros in NYC?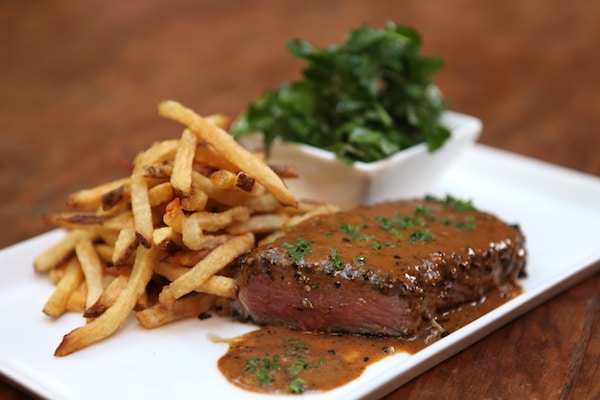 As much as I like to hear compliments like that, I try not to pay attention to them. There is so much work involved in keeping a place up to the standard you are expecting, and you never really achieve that standard. There is always a challenge or a problem to overcome. For me it's a constant work in progress. I suppose it would be nice to be known as one of the great bistros of New York if one day it was all over, but for now it can always get better. At the end of the day though it's just a great space and the people who come here and work here really make it special.
What makes your Steak AP so sought after? I believe it's more famous than that fabulous Raoul's burger. (Indeed, I know it' s my favorite).
When my father and my uncle bought the place from the Luizzis in 1975, they didn't have any money so they finished what was in the fridge. Luizzi's was an Italian restaurant and Mr. Luizzi stayed on and helped cook for a while. As they ran out of Italian food, they started making French food and Steak au Poivre was and still is a bistro classic.  My Uncle Guy started looking around for a good cut of meat and became friends with Pat Lafrieda's aunt. The 40-year relationship started then. Today its an all natural, grass-fed, creekstone strip. Pat has been very kind with us over the years and ages it a bit to us before delivery. But the sauce helps a bit too.
Having been there multiple times, I have never had a bad experience. How does Raoul's consistently 'dish out' (pun intended) exemplary service and with a smile each and every dining visit?
See Question 1. As for the food, David Honeysett is a great chef. I've never seen a kitchen that is so consistent.
I have to ask, what is the secret in that au Poivre?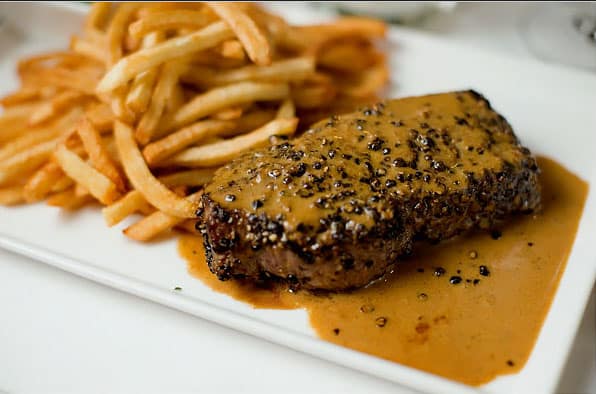 The secret is that there is no secret. It's just really good, quality products.
What is Alice Watts' (communications gal) favorite dish there?
Alice: The Steak au Poivre is always a necessity for me, however my absolute favorite is the artichoke vinagrette. It's served with quinoa, pickled vegetables and Raoul's own perfectly delicious dressing.
Yet again, the Steak AP was mentioned even as a necessity. Thank you Alice, I concur!
Make your reservation today and if you fancy some privacy, head to the back atrium (through the kitchen).
Bon appetit!
http://raouls.com
180 Prince St, New York, NY 10012
Featured image by zoryanchik/Dollar Photo Club