Gian-Paul Caccia is fast. Markets Media was able to catch up with him (albeit briefly and via e-mail) to ask about his fleetness of foot.
Markets Media: As background, what is your position at Wolverine, where are you from originally, and what is your age?
Gian-Paul Caccia: I am a sales/account manager for Wolverine Execution Services (WEX), an independent agency broker that offers clients multiple venues for execution including our proprietary electronic trading platform, direct floor access, and an agency trading desk. I am from New York, NY, age 26.
How did you first get interested in running? Why do you like it?
I became interested in running in my junior year of high school. I enjoy running because it keeps me grounded and focused. I am able to obtain new goals, gain confidence from achieving those goals and stay fit at the same time.
What is your training schedule like, and how do you manage this with a full-time job?
I usually run anywhere between 80 and 100 miles per week, depending on the distance of the race I am training for. I'll run every day, sometimes twice a day, before and after work. I am able to manage this with a busy schedule at WEX because I am pretty disciplined about managing my time. I am also an early riser.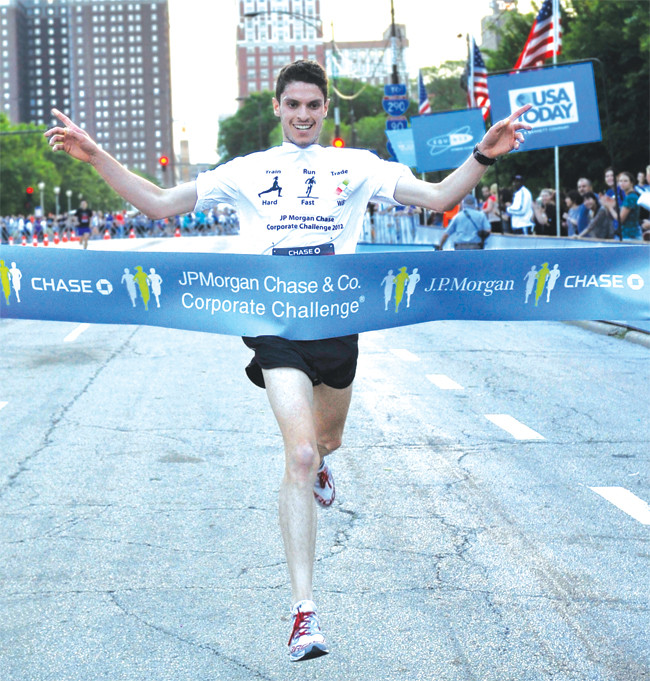 What have been your major running accomplishments? What was your single greatest running moment?
My greatest running accomplishments:
-Qualifying for the USA Olympic Marathon Trials with a
half-marathon time of 1:04:46 at the 2011 NYC Half Marathon (probably the single greatest moment)
-Racing the USA Olympic Marathon Trials and
placing 70th in 2:22
-Winning the 2010, 2011 and 2012 JPMorgan Challenges in NYC and the 2012 JPMorgan Challenge in Chicago. It felt great to represent the Wolverine team and crossing the
finish line wearing the WEX running shirt.
-Holding the Loyola University (Maryland) records in the 5000m and 10000m runs
What are your running goals?
I would like to qualify for the 2016 USA Olympic Marathon Trials, run more personal bests at all race distances and hopefully win some more races.
Can you draw any comparisons between running and your day job?
Both running and working at WEX are high-intensity activities. I feel like I'm always on the go, whether running out in Central Park, meeting with our growing client base, demoing the WEX Trading Platform or working in the Wolverine offices. Running and my work allow me to achieve new personal goals and achievements.