Top 3 Online Travel Tools
10.14.2013
These helpful travel sites guarantee easy planning and a stress-free vacation!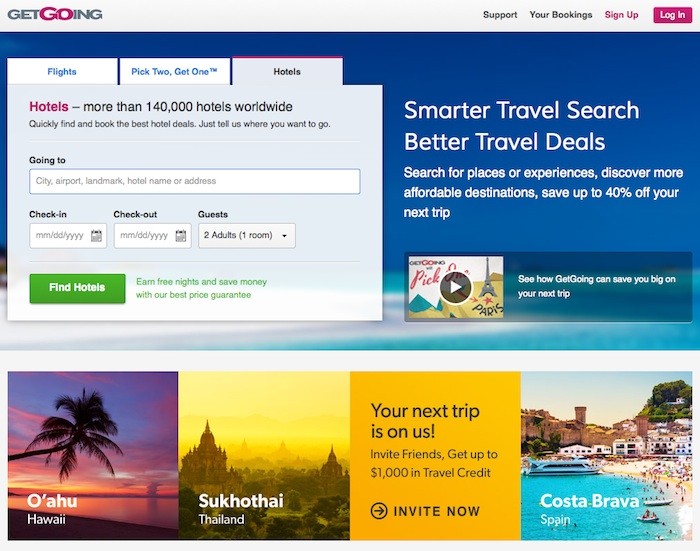 You love scuba diving, and your body is just itching to pack your best swimsuit and travel to an exotic destination where you can jump in the ocean and swim with the tropical fish. How will you know which destinations to travel to that have the clearest waters and most colorful fish? Well, simply by choosing "scuba diving" from the "experience" drop-down menu from GetGoing. The drop-down menu lists a variety of different experiences to travel for, including but not limited to beaches, camping, culture, family friendly, nature, beer, food in the USA, food in Europe, wine, shopping, spa & wellness, top nightlife hotspots, US National Parks, top honeymoon trips, backpacking, cycling, hiking, rock climbing, scuba diving, skiing, running, kitesurfing, golf, and yoga. After you choose your experience, GetGoing's FlightFinder tool will provide you with the best flight prices to get you there, while you book your hotel at the same time. If you know what destination you would like to travel to, just skip the experience tool and search for your destination, and GetGoing will provide you with personalized recommendations with the best prices around.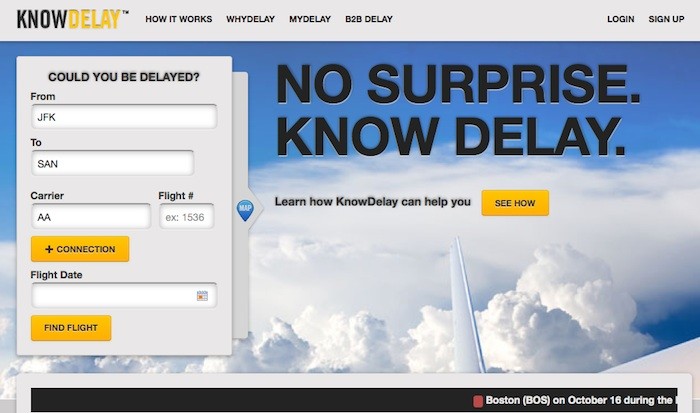 Captain Delay makes it his mission to provide travelers with expert knowledge to help them avoid weather-related flight delays. The captain and his team have created a unique weather "recipe" that allows them to estimate the impact and duration of a weather event, translate that weather event into predicted airport performance, and inform travelers of flight delays 3 days in advance. If you are booking a last minute flight, just log the information into KnowDelay and let Captain Delay predict your flight performance. If it's predicted that your flight will be cancelled, Captain Delay will provide you with alternate routes. The website works by taking the "worst case" weather from a variety of different weather predictions, and applying that to the 36 largest airports in the United States, as well as long distance weather that takes into account a 100 mile radius around the airport that could impact the flight. Predictions are shown using a 3-color scheme: Red (60% chance of 30-minute delay), Yellow (40% chance of 30-minute delay), and Green (less than 6% chance of delay). Having predicted over 90% of all weather-related flights, KnowDelay can increase your knowledge of delays by up to 10 times. When you really need to get somewhere, the surprise of a weather-delay can be frustrating. That's why KnowDelay lives by their motto: "No surprise, No delay."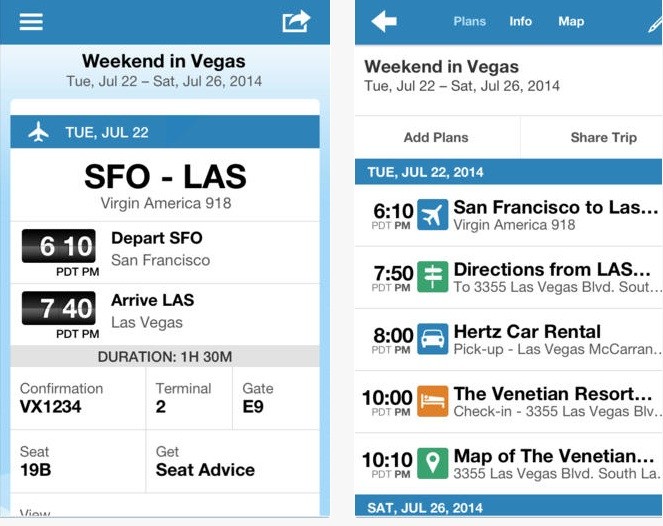 First, you had to write out your entire trip itinerary. Later, you could type it up on the computer and print it out. Now, we can use our cell phones or tablets. But even with all these organizational devices, old and new, what happens when something in your travel plans goes astray? Imagine a website that keeps the cumbersome mess of your itinerary in one place, and anticipates changes to your travel plans. With Tripit, our dreams of an organized vacation become a reality. TripIt.com allows you to email your travel confirmations to their site, where they wll create an all-in-one mobile itinerary for you, including maps, and directions to help you get to your destinations. With a yearly subscription, TripIt Pro can assure you of a stress-free vacation (or as they call it, "serious travel zen") as it will anticipate changes and send alerts, track points, and search for better seats on the plane! The site even allows you to keep friends, family and work up-to-date with your travel plans, so when you come back to town, you wont have to answer those annoying "what did you do while you were away?" questions.