Karl Lagerfeld, Chanel Designer, Dies at 85
02.19.2019
Ask Mademoiselle. Follow on Instagram
"I've always known that I was made to live this way, that I would be this sort of legend." – Lagerfeld
The Fashion Industry lost a legend this morning. Karl Lagerfeld, the Creative Director of both Chanel and Fendi, worked up until his death and shall forever remain one of fashions most recognizable and prolific figures. Rumors had swirled about his health after he was absent from his Chanel show in late January, due to what the fashion house described as tiredness.
"Today the world lost a giant among men," said the editor-in-chief of Vogue magazine, Anna Wintour.
In 1933, he was born Karl Otto Lagerfeldt in pre-war Germany. Lagerfeld changed his original surname from Lagerfeldt, because he believed it sounded "more commercial".
He emigrated to Paris as a young teenager, and became a design assistant for Pierre Balmain, before working at Fendi and Chloe in the 1960s.
He soon would become best known for his affiliation with the French luxury Fashion House, Chanel. He began his career at the French fashion house in 1983, a decade after Coco Chanel died. Bringing new life and glamour to the design of the prim and proper classic Chanel tweed suit, he of course transformed Chanel into a global powerhouse.
He was rarely seen without his dark glasses, fingerless gloves and silver ponytail, and he was also known for being extremely outspoken.
"My job is not to do what she did, but what she would have done," he said of the brand's founder, Gabrielle "Coco" Chanel. "The good thing about Chanel is it is an idea you can adapt to many things."
A FEW OF MY FAVORITE QUOTES FROM THIS ICON:
"When I was four I asked my mother for a valet for my birthday."
"I'm a kind of fashion nymphomaniac who never gets an orgasm."
"I live in a set, with the curtains of the stage closed with no audience – but who cares?"
"Chic is a kind of mayonnaise, either it tastes, or it doesn't."
"Vanity is the healthiest thing in life."
"If you throw money out of the window throw it out with joy. Don't say: 'one shouldn't do that' – that is bourgeois."
"Bling is over. Red carpetry covered with rhinestones is out. I call it the new modesty."
"When I took over Chanel, everybody said to me, 'Don't touch it. It's dead. There's nothing you can do.' And I said to myself, 'I love that people think that. Now let's see.'" — October 2017 (WWD Honors). See the complete interview here.
On Choupette: "She is like a kept woman. She has a strong personality. She has lunch and dinner with me on the table, with her own food. She doesn't touch my food. She doesn't want to eat on the floor. She sleeps under a pillow and she even knows how to use an iPad. She has two personal maids, for both night and day. She is beyond spoiled."
"I design like I breathe. You don't ask to breathe. It just happens."
"Don't use expensive clothes as a screen for your personal doubts. Be proud of yourself and not only because you wear expensive designer clothes. They are great, but lots of people are happy without them."
"Luxury bags make your life more pleasant, make you dream, give you confidence, and show your neighbors you're doing well."
"I am a living label."
"Personality begins where comparison ends."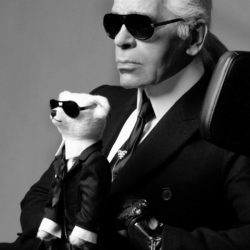 "Trendy is the last stage before tacky."
"I don't know what normal means anyway."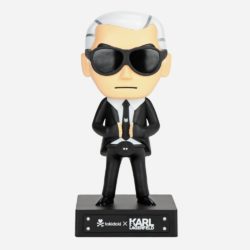 MY PERSONAL FAVORITE: "ELEGANCE HAS NOTHING TO DO WITH FASHION"
You, your creativity, your grandiosity and your candor shall be missed Mr. Lagerfeld.