How Visiting The Met Helps NY's Economy
10.07.2013
A surprising factor in bringing more money into New York's economy happens to be the Metropolitan Museum of Art and its three exhibitions on display for the spring/summer 2013 season. According to a study conducted by the Museum's Office of Market Research/Marketing & External Relations Department, these exhibitions– Fashion and Modernity; Punk: Chaos to Couture; and The Roof Garden Commission: Imran Qureshi –brought in over 1 million regional, national, and international tourists (1,143,181 to be exact) and generated an estimated $742 million in spending, totalling to a direct tax benefit to the city and state of $74.2 million.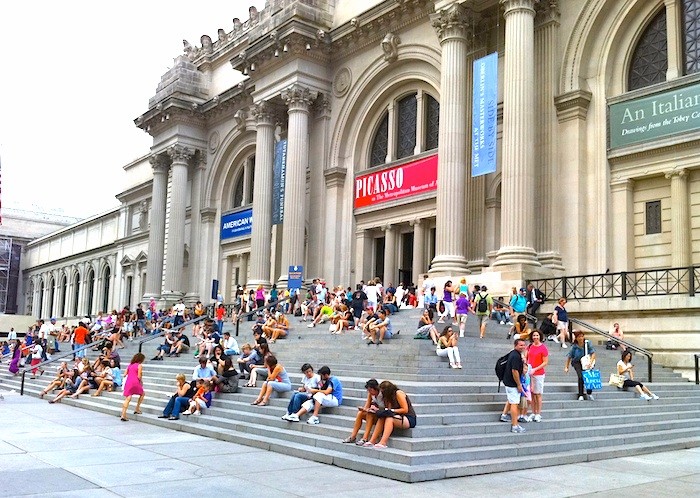 [via]
The study found that 1.7 million (77%) of the museums visitors are from outside the NYC area, being from the tri-state, other states, and international areas. The Metropolitan Museum is one of the most popular cultural attractions in NYC, as 54% of people surveyed cite The Met as being "a key motivating factor in visiting New York."
The money brought in from tourists visiting the museum also goes towards hotels, entertainment, shopping, and other miscellaneous spending. According to the survey as stated in the press release, "seventy-eight percent of travelers reported staying overnight in the City and, of these, three-quarters stayed in a hotel, hostel, or rented apartment. The average length of stay was 6.6 days. These out-of-town visitors reported spending an average of $1,139 per person ($773 for lodging, sightseeing, entertainment, admission to museums, and local transportation, and another $366 for shopping)."
In the fiscal year 2013, the museum recorded about 6.2 million visitors, aiding in the $5.4 billion collected in New York by out-of-town visitors. Tourists who visited New York with intentions of attending The Metropolitan Museum brought in an estimated impact of $2.9 billion, making the direct tax benefit $290 million.