Frequenting farmers' markets in Westchester, Dutchess, and Ulster Counties, Aba's Falafel, the family-run purveyor of delicious Middle-Eastern eats, provides hearty falafel that evokes the cuisine and heritage of the family's Israeli roots. Based in Clinton Corners, NY Aba's Falafel concentrates their efforts on falafel, cooking scrumptious morsels prepared in the style of their home country. Wistful for the food of their homeland after moving from Israel to New York, the Naor family found a favorable means to integrate their nostalgia for native cooking with their love of farmers' markets. While Aba's Falafel may have started as a humble family project to share the savory flavors of their culture and enjoy the markets longer, the stand has blossomed into a beloved mainstay of local farmers' markets and a much-anticipated highlight of the market-going experience. From around mid-morning to afternoon lunch, Aba's Falafel becomes visibly crowded with hungry shoppers, devoted regulars, and occasional impassioned patrons traveling upwards of two hours to receive their falafel fix.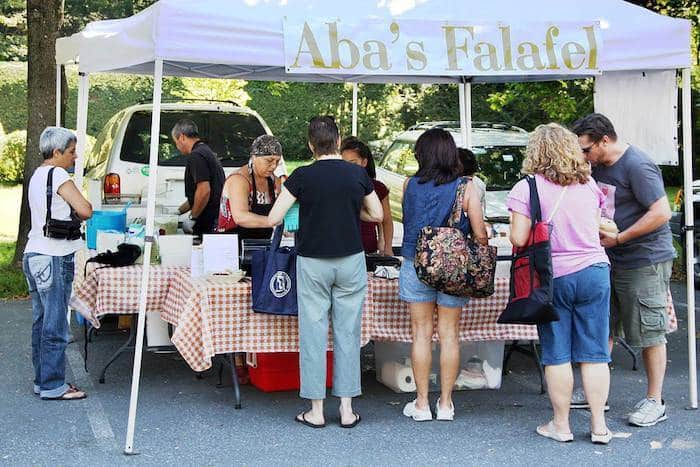 Attracting conscious consumers and food-savvy localvores, Aba's Falafel uses locally sourced ingredients and produce, to prepare their succulent bites. For 7-10 dollars, customers may choose to order their falafel and fresh greens in a pita pocket or on a plate with the added option of forgoing the pita for an increased serving of falafel. As Cathy Naor, the warm matriarch behind Aba's Falafel shares, "Its all about the falafel and the spices." Each falafel ball consists of chickpeas, garlic, onion, parsley, and cilantro, skillfully seasoned for a hearty gluten-free meal rich in spices and textures. In addition to the sesame-based tahini sauce that traditionally dresses the falafel, condiments including pickles, hot peppers, Harisa (homemade chile sauce) and Amba (mango curry sauce) are also available to add a piquant nuance to a pita or platter.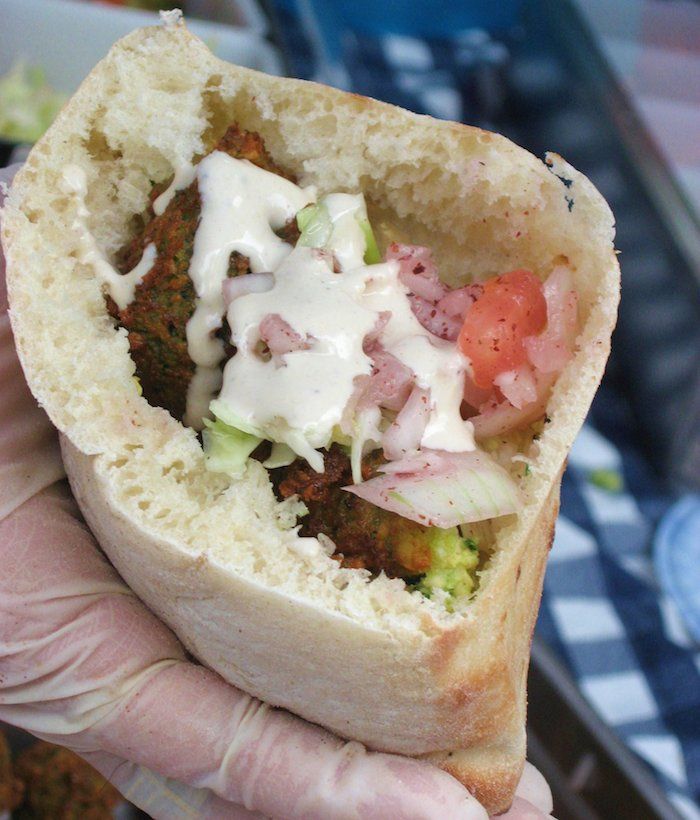 Behind the output of such pitas and platters, the positive and passionate energy surrounding the stand is every bit as palatable as the food the Naor family produces. The Naor's adherence to authenticity, commitment to heritage, and dedication to family serve as significant ingredients to securing returning customers and remain tenacious pillars of the family business. Chosen for the Hebrew word, Aba, for father, Aba's Falafel, at its center, is a genuine family-oriented business with the homey vibe and compelling respect of a treasured neighborhood stand.
You may find Aba's Falafel in the prominent Woodstock, Reinbeck, and Pleasantville farmer's markets. For more information on Aba's Falafels visit their facebook page: facebook.com/abasfalafel
Photos via Aba's Falafel facebook page