Christo's Curls
12.30.2015
By Rupveen Arora (Mademoiselle Wanderlust), Head of Lifestyle
---
Calling all curls. Calling all curls.
Speaking from experience, taming these wild beasts is like teaching an old dog new tricks. Fortunately for them, I have come across Curlisto: Christo's famous product for those of us 'blessed' with curls, coupled with "The Art of Curly Hair".
Dubbed the "King of Curls" by The Wall Street Journal, Women's Wear Daily and now yours truly, you can find Christo on Fifth Avenue. Hailing from the Greek Island of Cyprus, he has traveled the globe with his team sharing his expertise with haircare professionals from Paris to NY. His clientele includes celebrities as well as devotees to his brand. I have personally witnessed transformations just while sitting in his salon.
According to Curlisto.com, "Christo works closely with top designers for major fashion events, including New York and San Francisco Fashion Week, the Latin Grammy and Billboard Awards, Tribeca Film Festival, and the Sundance Film Festival, to name a few."
Having the pleasure of knowing Christo, a very sweet and soft-spoken gentleman, let's take a moment to find out what his journey has been about!
Thank you for your time. To begin with – tell us a bit about your mission objective? Your story?
My name is Christo and I am the Global Artistic Director of Christo Fifth Avenue and Curlisto Systems. I began my career at the tender age of twelve, with an apprenticeship at my family's salon on the Greek island of Cyprus. During my teenage years, I ventured to Paris, where I advanced as a young talent for my Parisian clientele. By my early twenties, I led a team of artists around the world to educate salon professionals. I later ventured stateside, opening my flagship salon in the heart of New York City on Fifth Avenue in 2002. In 2014, I gave my salon a glam makeover and expanded it to a 5,000 square-foot luxurious salon and spa, opening my door to 'A-list' celebrities and loyal clientele. My mission is to continue focusing on creating styles that make people look and feel their best. Additionally, my passion for curly hair created a name for me in the hair industry: "the King of Curls." It gave me the inspiration to keep going strong on helping men and women to embrace their curls!
What is the uniqueness of your salon/product?
I think my development of Curlisto products is rare because it focuses exclusively on nourishing the hair with ingredients that specifically remedy curly hair challenges. Each client's curls are unique, with specific texture, structure, and wave. Curlisto methods of reviving hair with special treatments are the basis from which an individual's particular needs are met. Cutting curly hair is an art, since no curl is alike — the Curlisto method of cutting into the curls so that the hair can be sculptured, shaped, and contoured to maximize each individual's hair texture, face shape and desires with Curlisto Diametrix Cutting Techniques.
Who are your clients typically? Only women who don curls?
80% of our clients have curls who come in to look for a solution for their texture – the other 20% are clients who search for high-quality and trust worthy service. I believe there are no limits of clientele. People fly from all over the globe to get their haircuts at our salon. I am extremely grateful to have a team that has been supporting my philosophy of beauty and continues to keep our mission going.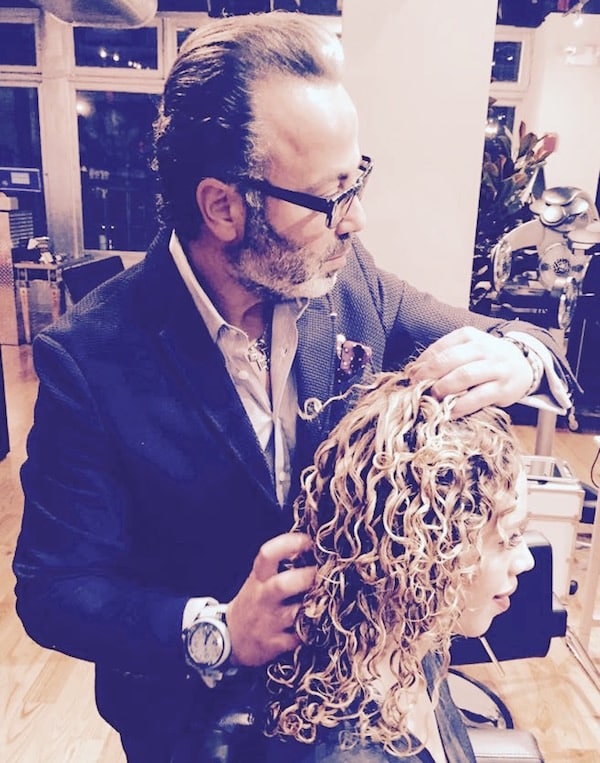 What inspired the brand Curlisto?
The inspiration comes from the ancient Greek word, "Istos" which means structure and Latin word "listo" means "ready." I came up with combining the two into "Curlisto" which means "curl-ready." It is important for inspiration to keep growing in the hair business because people with curly hair, like myself, become frustrated with not having one product line dedicated to supporting curls. This is why I decided to make a hair product line that specifically caters to the curly hair community!
Do you find that women typically think the 'grass is greener', ie. straight hair wants curly and vice versa?
Yes, but I think this is something that applies to everyone about everything. I think it's human nature to always want what you don't have. But I believe the key is to learn how to handle what you have without damaging it. For example, you can use a curling iron on your straight hair and use flat iron for your curls but you must always use a good hair masque to revive and maintain the hair shaft. Also, utilizing styling products and hair treatments will protect the hair from heat appliances and reverse any damage done.
What is it like to work with celebrities and do hair for women appearing at big award and fashion shows?
I can't even begin to explain the excitement I feel when working with celebrities, and huge events such as NYFW. I am blessed to have this privilege and it is a dream that I live everyday. I can tell you it does not come easy. It takes years of dedication and hard work to have these doors open up for me. You MUST love what you do to make it this far!
What is your one piece of advice that women with all hair types should follow?
'"Hair is your #1 Accessory" – Every woman should invest their time and effort to achieve the best hair styles for them. Without healthy and beautiful hair, a woman cannot complete her overall look.
Tell us about a major achievement of your Curlisto/Christo Salon?
To name few: We are one of the top salons that specialize in curly hair. Christo Curlisto is the only one who educates "The Art of Curly Hair" which includes the philosophy, the cutting technique, and the styling technique to thousands of salon professionals at the International Beauty Show. Christo Fifth Avenue is one of the leading hair teams at NYFW, along with Curlisto being the leading hair product line to use. We have been recognized and featured in trade magazines such as Launch Pad, American Salon, Modern Salon, as well as Women's Wear Daily. Although these achievements have been so wonderful, it is an even greater feeling to give back. As a team, we have sponsored and donated to countless events to raise awareness for cancer, AIDS, and raise money for schools and scholarships.
What impact does social media have on your business?
Social media has been a great opportunity for my business to grab the attention of clients and new customers as well, all while simultaneously building my brand image. Most importantly, we connect and help people through Facebook, Twitter, and Instagram. We are going global as hair advisors. We have created an online community where we can provide prescriptions to people from all around the world on what is best to use and how to care of their hair. Bottom line: social media is fantastic tool for helping us to help people.
What are your future plans?
I am taking life day by day. I enjoy what I have now and am extremely thankful. I am just going to keep striving to be the best and continue to do what I love to do – what is meant to be will find its way.
Lastly, I always like to ask, What is that sets you apart? Your differentiator?
What sets us apart is that we are not a cookie cutter for curly hair. We are extremely fashion-forward. We want all women to feel beautiful and fashionable. Therefore, we are capable to deliver the best blow outs and styling curly, as well as the latest hair trends. What we have been doing as a team has been unbelievably successful thus far.
—-
Thank you, Christo for your advanced technique and products, as we women with curls are forever grateful. I highly recommend a visit to his salon in the near future (curls or not). This man knows hair!
You can find Christo at:
35 West 45th Street 3rd Floor
New York, NY
212-997-8810
Email: info@curlisto.com