Don't Forget ___! 5 Websites to Create Packing Lists
07.29.2014
Summer is the season for gratifying getaways. But doesn't every vacation, escape, and family trip seem to come with a frustrating remembrance of the one item that eluded a mental checklist, engendering a range of emotions from the disappointment of a forgotten bracelet to the panic of a misplaced passport. To ease the challenge of packing, visual checklists can be useful tools to iron out some of the wrinkles in the planning process and ensure the ease of mind needed to fully immerse yourself in your destination.
In addition to the plethora of packing list apps available on smartphones, there are online resources to help create foolproof travel agendas. Follow the lists to a 't' or loosely scroll through the suggestions to inspire additions to your own travel plans and embark, with ease, upon your journey confidently prepared for the adventure ahead. Here are a few resources to reduce face-palms after inconvenient lapses in memory and to help you get started packing for your next departure:


The Universal Packing List
After choosing the dates, temperatures, accommodations, companions, activities, luggage, and transportation of your trip, the website prepares extensive packing suggestions and reminders based upon the results. Helpful commentary, anecdotes, and added travel tips supplement the recommendations, ensuring that you leave nothing behind.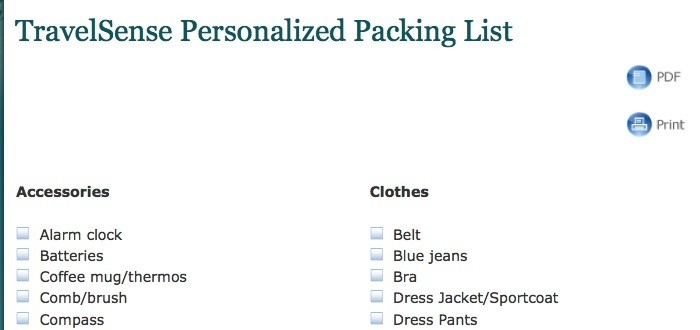 TravelSense
The online packing list generator creates a personalized checklist upon submitting the accommodations, activities, and weather of your journey. Although similar to The Universal Packing List, TravelSense offers more categories of travel including such options as cruise and business.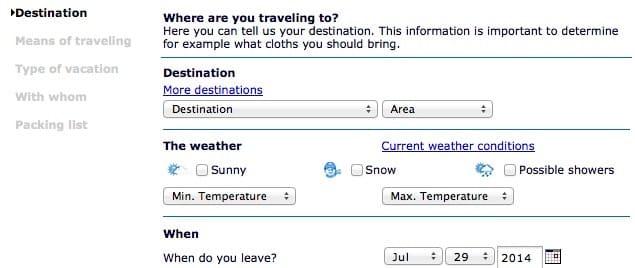 PackingListOnline
Similar to the online generators above, you may submit travel details to receive a tailored packing list. The questionnaire, however, asks for more details on your destination, means of travel, and type of vacation to generate more specific results.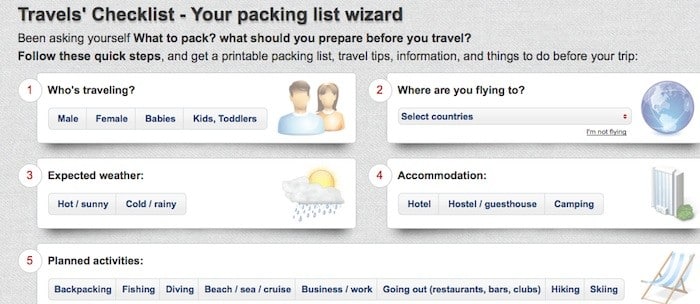 Travels' Checklist
Upon answering the online questionnaire, the website generates a useful agenda divided into categories such as travel preparations, documents, and packing lists. Compared to the other online generators, Travels' Checklist is more interactive in that you may edit, add, and comment on the travel suggestions. The website also includes information on the destination as well as clever travel tips and recommendations to further prepare you for your upcoming trip.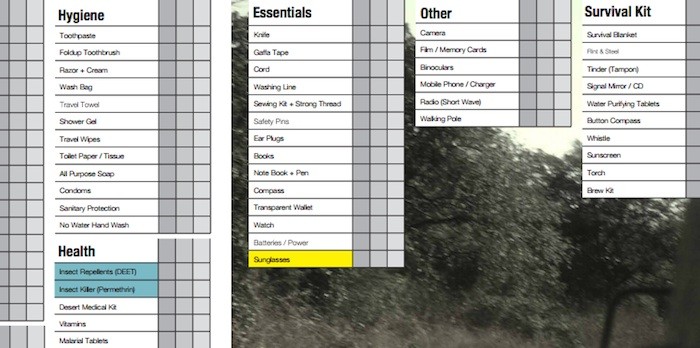 Nomad Travel
For more adventurous and rugged travelers, Nomad has free downloadable packing lists for treks into jungles, deserts, and mountains. The lists include suggested clothing, health, and hygiene essentials as well as recommended equipment. The website offers consultations as well, providing a more in-depth review of your travel plans.
Happy trails!