Fuerza Bruta Wayra
01.21.2015
By May Zhee Lim, Markets Media Life Correspondent
Gone are the days when going into a theater means turning off your cellphones and sitting silently as action unfolds before you on stage. In Fuerza Bruta's productions, there is no seating involved, neither is there a "stage" per se, and everyone takes out their cell phone so they can capture the thrill ride of a show they've signed up for.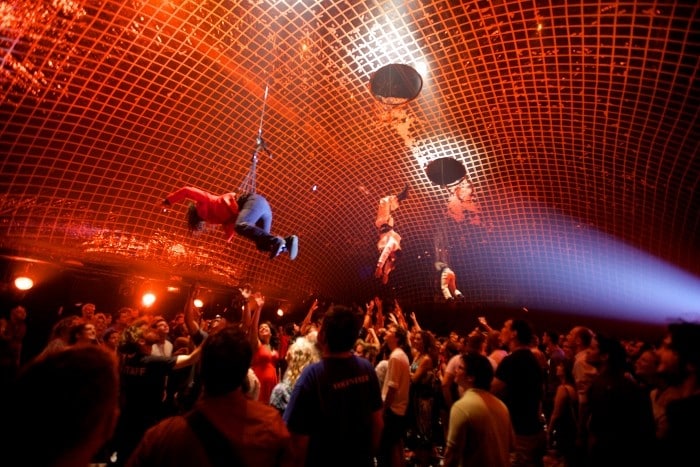 Probably the most unconventional off-Broadway production that's on right now, Fuerza Bruta Wayra  is a multi-sensory spectacular that goes above and beyond to immerse its audience members in the set and scenes for eighty minutes. The show runs at the Daryl Roth Theater in Union Square, where they've been performing for over six years. Fuerza Bruta Wayra is made up of highlights of their past performances and some newly added elements.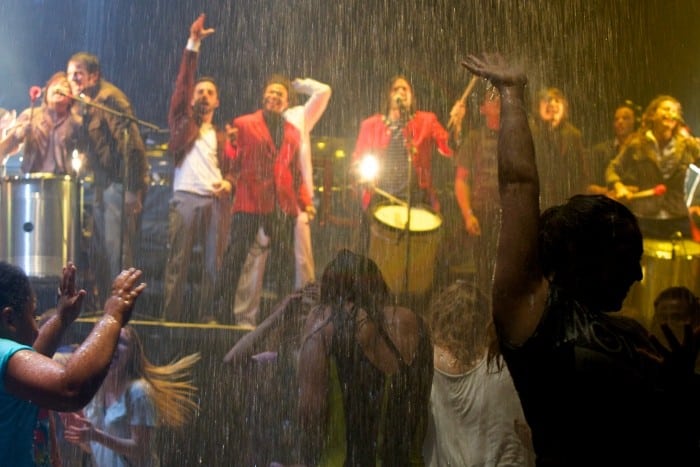 A big part of the show is not knowing what will happen next but there are some things you can expect. Not only will you be standing throughout the show, you will be cajoled into moving and taking part in the scenes. There's a lot of heart-stopping aerial acrobatics, which means much of the performance will take place directly above you. Some of you may leave the theater wet. Euphoric live music, multiple colored lights, and special effects combined make the show feel more like a rave concert than a civilized night at the theater. If this sounds like your idea of a fun time, go ahead and purchase your tickets. Just be sure to show up in the most comfortable pair of shoes you own.
Tickets for Fuerza Bruta WAYRA are now on sale for $99 and can be purchased online by visiting www.fuerzabrutanyc.com, or by calling 212-239-6200. The performance schedule for Fuerza Bruta WAYRA is as follows: Tuesdays through Thursdays at 8:00 p.m., Fridays and Saturdays at 7:00 p.m. and 10:00 p.m., and Sundays at 7:00 p.m. Group tickets may be purchased by calling 1-855-9-FUERZA, or by contacting groups@fuerzabrutanyc.com. For all performances, thirty rush tickets will be made available for $30 each at the box-office two hours before show (cash only).
Photos via Jacob Cohl/Fuerza Bruta Wayra