When seeking a change from the monotony of uninspiring workout schedules, perhaps partake in one of KiwiSweat's "pop-up" fitness classes and reshape your exercise routine. Established in 2011, the mobile gym caters to those seeking greater spontaneity in their workout regime by hosting an assortment of exercise events in various destinations throughout New York City and the United States. Each event is on a pay-per-class basis with zero membership fees to offer invigoratingly flexible exercise options. Founders Alicia Thomas and Pam Graf approach workout experiences with a unique brand of creative fluidity, developing quality fitness classes with premier instructors, playful venues, and lively DJs.
This week, Alicia Thomas was kind enough to answer a few questions about her innovative business and share more details on both KiwiSweat and current fitness trends.
Q: How would you describe your business?
A: Since 2011, KiwiSweat has been a branded platform focused on providing the highest quality fitness in unique destinations. We've featured the city's best instructors and DJs in warehouses, art galleries, rooftops… you name it— we've been there!  Our main purpose in life is to transform the ho-hum workout routine into THE premier fitness experience. Our latest development, the KiwiSweat app, is a major extension of the KiwiSweat platform. The app lets cutting-edge instructors directly connect with clients, empowering premier instructors with a way to bring their custom methods directly to clients, and giving users the ability to discover, easily pay for and attend fun, new fitness classes. Who needs the gym?  We're giving instructors the power to reach users directly. We aim to change the way people think about and practice fitness. It's essentially Uber meets Airbnb with a sprinkle of Etsy, but for group fitness. Our inaugural class on the app starts Thursday, August 14, 2014 and our official launch of the app will take place on September 20th, 2014 at the Frying Pan in New York City.
Q: How would you describe your clientele?
A: I would say that the people who attend a KiwiSweat class are on the cutting edge of new trends. People who come to KiwiSweat classes are looking for something new and they're really looking for an experience. They want to break away from their normal routine. They love working out, but they also love the social aspect that KiwiSweat classes provide. They're also incredibly loyal to their instructors. The biggest thing I can say about a KiwiSweat class is that everyone— the instructors, the participants— is present. We are all completely in the moment and that tends to be very special.
Q: Why types of fitness activities do you offer?
A: We offer every type of fitness. We work with amazing, proven instructors that have significant followings, so we offer whatever it is that they teach. That includes spinning, Tabura, kickboxing, boot camps, Yoga, cross fit, TRX, etc. If we can support it logistically and there is enough demand to support the class, we will absolutely host in on the app. We love classes that are fun and beyond the trend. Most recently we've been looking into doing some outdoor pole workouts and workouts based on Bollywood movies!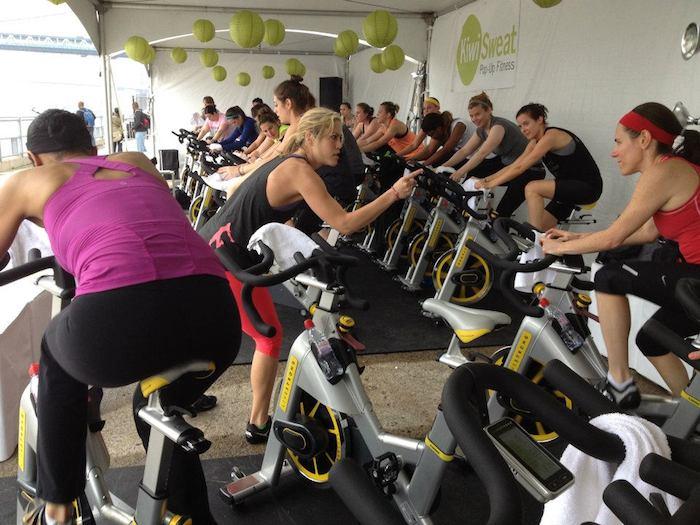 Q: What are your most popular classes?
A: We are an instructor-based platform. So we focus more on the instructor than the format of the content. So it really depends on the instructor. Our most popular instructors in the past have been Lacey Stone and Reign Hudson. They both taught indoor cycling and Reign Hudson also taught an amazing class called Tabura. We are currently working with Patricia Moreno and Natalia Petrzela who will teach Patricia Moreno's signature method, intenSati. We expect that class to do incredibly well on the platform. We are also working with Kira Stokes (Stoked), Jamie Lugo (Yoga Flow), and Curtis Williams (Training C.A.M.P.). Their classes will start in the coming weeks but we expect that each of them will kill it. They have huge followings and they are amazing instructors.
Q: How do you decide upon the trainers and classes for your business?
A: A lot of it is word of mouth and a lot of it is KiwiSweat discovery. If you work at KiwiSweat, part of your job is to attend new classes! We are constantly looking for new instructors. We look at the energy of the class, the energy of the instructor. We look at how motivating the instructor is. It's amazing, some instructors just have it and some don't. It's not something that can always be taught. It's not easy to be an instructor and we recognize that. The good ones are AMAZING! They're the ones that make you want to do the extra squat, the extra rep, run the extra mile. We look for those special instructors and then we partner with them. We are constantly monitoring fitness trends and try to stay one step beyond. One great thing about KiwiSweat that there's no ONE formula. Instructors have the freedom to try new things and see what works. We have feedback built into the platform that lets instructors know what works and what doesn't.
Q: What upcoming classes are you offering?
A: We've just launched the KiwiSweat app that allows premier instructors to host their own classes. It's a game changer. We're in the midst of our soft launch, which features our fearless pioneers Jamie Lugo, Curtis Williams, Natalia Petrzela, Patricia Moreno, and Kira Stokes. Together, these instructors have close to 12,000 twitter followers and all of them are super stars in their own rights. The classes they teach include Yoga, intenSati, Training C.A.M.P., and Stoked. Our big launch will take place on September 20th, 2014 at The Frying Pan in NYC (10:30AM). We'll be featuring intenSati with Patricia Moreno and Natalia Petrzela at the helm.
Q: What do you look for when deciding upon venues for your classes?
A: We are constantly looking for beautiful spaces that are inspirational and that are out of the ordinary.  We love non-traditional locations. We've been in art galleries, warehouses, a retail space in Chelsea Market, live theaters, outdoors, etc. We keep a running database of locations across the city and we're building our database of locations in other cities as well. We look at it as a matching process. Some locations work for certain formats, and some just don't. Each space we view, we first have to ask ourselves, which type of class would this work for? From there, we can determine the appropriate budget and use.
Q: Do you have a favorite venue or a most popular venue?
A: My favorite venue was The Living Theater. The space had such great energy. Reign Hudson taught her signature Tabura class. There was a snowstorm that day. We played Bruce Lee movies on the walls. It was just a beautiful experience. The most popular venue was Chelsea Market. Chelsea Market has a ridiculous amount of foot traffic. We featured spin classes taught by about 10 different instructors. It was amazing. We even had spectators! Who knew that spinning was a spectator sport?
Q: What, in your opinion, are your most memorable classes?
A: Our most memorable class was our explicit midnight ride at Chelsea Market with Rachel Buschert Vaziralli. We had a retail space at Chelsea Market for about two weeks.  Our retail neighbors often complained over the loud music accompanying the class. But of course, at night we knew that no one would complain, so we decided to host a ride that started at midnight on Halloween. People came in costume, it was so much fun!
Q: What is the most memorable feedback you've received from a customer?
A: Someone once told us that KiwiSweat is not a workout—it's an experience. It's about coming together, being present, and being part of something. Creating the experience is where we excel.
Q: What are some of the latest trends in fitness?
A: In terms of the fitness industry overall, we are seeing more instructors that want to be their own brand. Social media is enabling them to cultivate their own large followings and really reach beyond the framework of a gym or a studio. We believe that we are a key step in enabling them to do that. In terms of fitness formats, there will always be a "workout du jour." We're seeing the increasing popularity of cross fit, TRX workouts, boot camps, and other dance themed workouts like Zumba or 305 Fitness. And of course spinning has been popular for some time now. These are all great workouts. At KiwiSweat, we aim to be beyond the trend of format. Instead we focus on amazing instructors. For us, the instructor IS the trend.
For upcoming classes and more information, explore the website: http://kiwisweat.com