Salsa with a Modern Twist
11.04.2014
By May Zhee Lim, Markets Media Life Correspondent
Do you like Salsa? What about indie music? The Williamsburg Salsa Orchestra combines the best of both to bring you the most eclectic selection of music to jam to this Sunday at the Brooklyn Bowl.
This fabulous 11-piece Latin band foregoes the standard repertoire of salsa music or sound-alike originals in favor of dynamic, dura ("hard" salsa) arrangements of familiar indie rock tunes. Their music manages to be both inventive and catchy, as they infuse both salsa and indie music with a new, vibrant aesthetic. Their ever-evolving set list includes songs by Arcade Fire, Yeah Yeah Yeahs, LCD Soundsystem, The Black Keys, Santigold, and many more that you can look forward to in their Sunday show.
The WSO released its debut album in 2011 to global acclaim and rave reviews, making their way into playlists of clubs around the world and numerous "Best of the Year" lists. The band is praised for their groundbreaking talent in resetting the boundaries of their art form and they have established themselves as a fixture in the New York underground scene. Led by percussion and arranger Giannia Manno (from the Latin-funk legends Radio Mundial) and Argentine songstress Solange Prat, the WSO is made up of the best young players of horns and percussions from all over the country and beyond.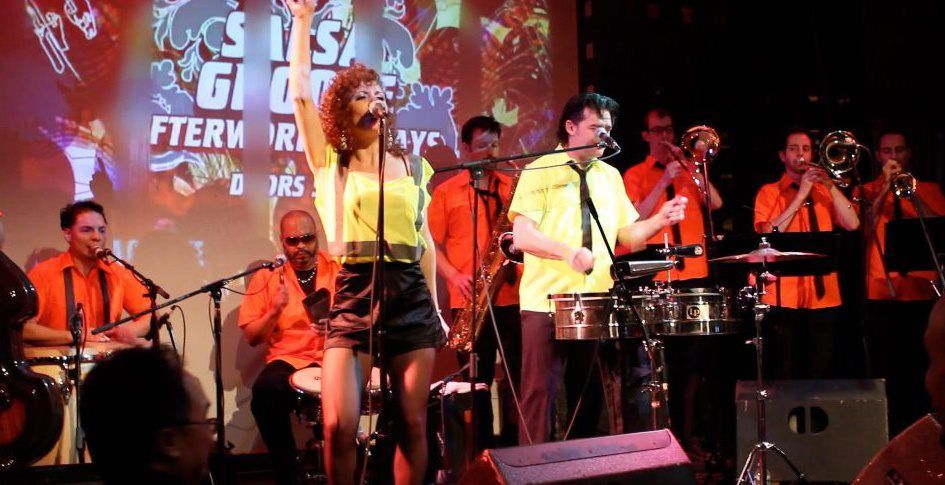 If you're still not sold, listen to their arrangement of Peter Bjorn and John's "Young Folk." You'll never hear it the same way again.
Get there early on Sunday to learn some salsa with Joey Corsica or warm up with DJ Walter B. Nice and VJ Willie Riviera. The show starts at 8 and doors open at 6. Tickets are $5.
Photo via Williamsburg Salsa Orchestra