Spa Mecca…in Queens!
09.26.2014
By May Zhee Lim, Markets Media Life Correspondent
If the name Spa Castle evoking a wonderland of oversized spa pools, relaxing sauna rooms, full body massages, and plush lounge chairs seems too good to be true, rest assured that such a place actually exists! Tucked away in College Point, Queens and truly palatial in size, Spa Castle has just about every luxury a spa center should have.
To start off, there is an outdoor spa resort that spans the second and third floors of the compound. The heated pools are installed with high-powered jets that target different pressure points all over your body, from waterfalls that massage away the knots in your back to hydrotherapy for your feet. The Hinoki bath lets you soak in hot mineral water, known for its healing properties and use in old Japanese baths.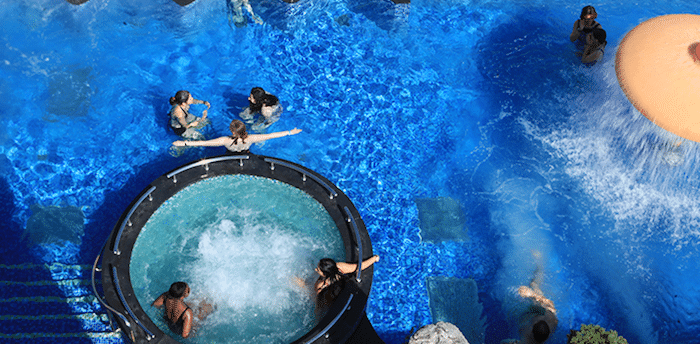 When you're done exploring, head inside to experience Sauna Valley, which lives up to its extravagant name. The complex has seven sauna rooms, each with a different theme, each one more elaborate than the last. The Gold Sauna is lined with real gold plates, and the Jade Sauna has walls made of calcium and magnesium, which is said to emit far infrared rays that perform wonders on the body. Besides, nothing says relaxation like unwinding in a room made of gemstones!
No luxury spa experience is complete without beauty treatments, body massages, and body scrubs, and Spa Castle does not skim on these services either. Other facilities include a fitness center, an indoor spa (with four more heated mineral pools) and a relaxation area with lounge chairs that come with individual TV sets. There is even a food court on the third floor, offering Korean delicacies, a juice bar, and frozen yogurt, for when you are feeling peckish from all that pampering.
Tickets are $40 on weekdays, $50 on weekends and holidays, with a discounted rate for infants. Spa Castle is open 7 days a week, 6am to midnight. Spa Castle's Manhattan fans are already rejoicing over the news that they are opening a location in Midtown East this fall, and they are calling it Spa Castle Premier.
Photos via Spa Castle