HRM Caters To Your Style Needs
09.30.2013
Having the best wardrobe just got a little easier, thanks to Heather Rae Mitchell. With her team of personal stylists, beauty and fitness experts, and connections at some of the best department stores in New York City, your closet can undeniably resemble an upscale boutique.
Heather started HRM to provide a concierge service that is tailored to your lifestyle and needs. With Heather's background and experience in fashion, she can offer her clients the best services and expert knowledge. She worked in fashion production, giving her an understanding of where clothing comes from, worked in retail for a clothing line and also styled for editorial photo shoots which have been featured in 10 magazines. Her incredible experience has helped her build her company to help her clients in a unique way.
Part of being taken seriously in the working world is knowing how to put yourself together. "It's not just about fashion," says Heather, "it's a lifestyle, you have to understand how to do your makeup and hair, and everything that goes along with it." Heather believes that fitting the part of an executive man or woman is extremely important to their success and happiness.
HRM services are perfect for the executive with an active lifestyle. The man or woman that is always on the go, traveling for work or leisure. The busy professional that wakes up at 5AM, works all day, and attends dinner meetings at night. If this sounds like you, Heather can help you reduce the stress of everyday life with her lifestyle concierge services.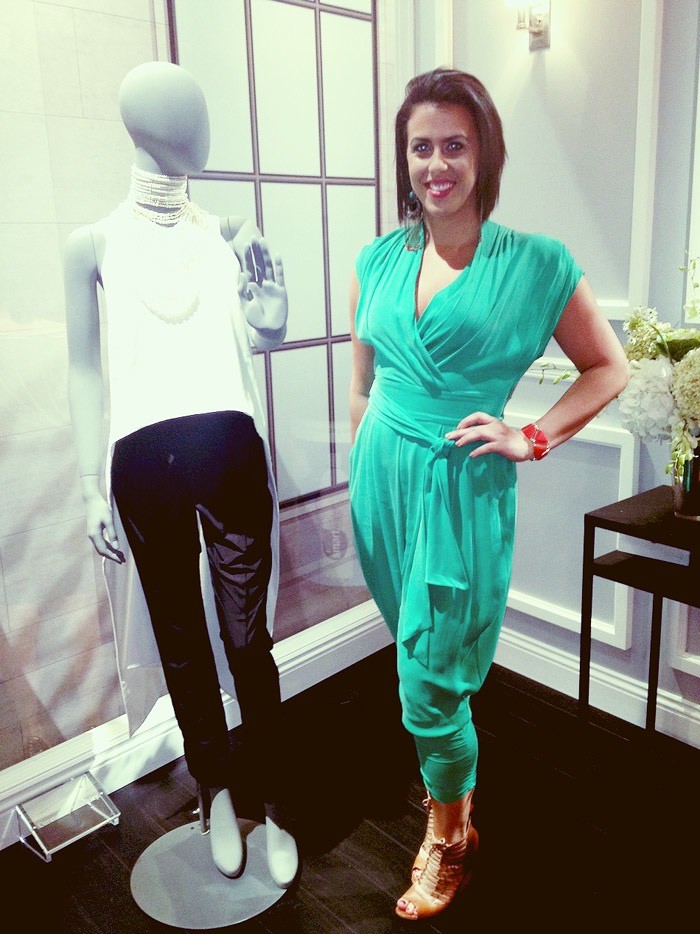 The initial package from HRM is the "Sort, Shop, Style" package. In this package, Heather will go into her clients closet, and see what they have, why they have it, and what they do or don't wear. In the process of getting to know their closets, she is getting to know her clients as well. "It's really easy for me to look at someone and tell them what they should wear and what their body shape is" says Heather, "but it's different when you look at what they actually purchase." Once she sorts through the clothing and the stores and comes up with a plan for her and the clients to work together, she creates a blueprint of what stores to go to and a wishlist of items to purchase throughout the seasons.
"I like to do my first shopping trip with my clients at Saks Fifth Avenue" Heather explains, "It's a calmer atmosphere, the staff are amazing, we can have lunch and take our time. I basically offer an all-inclusive in-store experience" The first trip is about two hours, the clothing, shoes, and accessories are already pre-pulled. After the first meeting at Saks, Heather will accompany her clients to their homes and help them style their new purchases. She will place what was just purchased with items that her clients already have, so that there is no double purchasing, and her clients can see how to style their clothing in different ways that are appropriate for their body type. If the client wishes, Heather will also provide personal training, or beauty experts who will come in and style or reshape their hair and show them how to do their makeup.
Heather also has great relationships with many other stores in New York City, including Intermix, Chloe, Trina Turk, Diane Von Furstenberg, and Ted Baker. These stores all contact her when new styles and collections are coming in, allowing her to go into the store, pre-pull, and set items aside. Heather's relationship with the stores is extremely important for her services. Because they allow her to pre-pull and set items aside, she is able to bring clothing to her clients that are uncomfortable with the shopping experience. These clients can try on new styles in the comfort of their own homes. The most important thing for Heather is to make sure her clients are 100% comfortable with the experience. She likes to build relationships with her clients, and grow with them as they change and go through new experiences in their careers and their families.
The HRM team also consists of a fitness side, beauty side, and stylists. She has staff members completely in charge of everything that goes along with personal training–exercise, and diet–and beauty–hair and makeup. Heather employs stylists below her, who gain experience through her teachings. They accompany her to stores and help her pull, and give her an extra hand. Her plan is to build these stylists up to learn how to deal and interact with clients. Eventually, these stylists will be able to take on clients underneath the company.
Heather's plan for the future of HRM is to work on building a solid team. "I want to be able to take a step back, and work with my stylists to build their clients, and grow HRM as a styling service and a lifestyle service," Heather says, "I want to stay with the clients I already have, and I also want to be able to create a team that will do the same."
If you feel that you need an extra hand when it comes to having better style, bring HRM into your life. Heather Rae Mitchell makes it her mission to cater to your style needs.