Defying Gender Norms For Centuries
11.05.2013
A trend in women's fashion for fall is wearing men's jackets and men's fabric.
We've seen oversized single and double-breasted top coats on the runways from Stella McCartney, Jill Sander, and Alexander Wang. We've seen masculine herringbone, houndstooth, pinstripes, and Prince of Wales checks on skirts, dresses, pants, and coats alike. In the past, women have been sporting wide-legged or boyfriend cut jeans, bow ties and ties, button down shirts, trousers, and suit jackets, among many other outfit choices that women can't help but search for in the men's section of the department stores. The ever-evolving world of menswear in women's fashion has us wondering where the trend all began.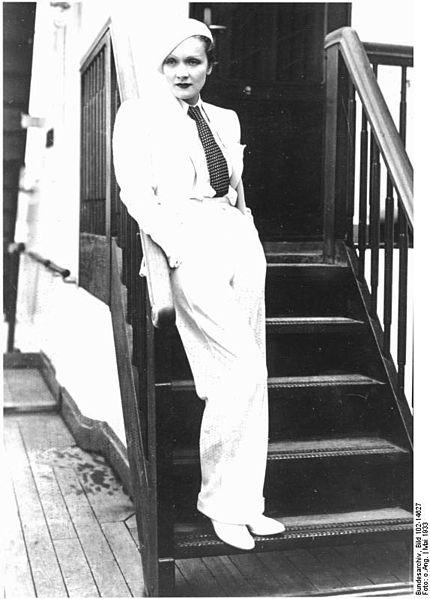 Women began breaking gender role norms when they started wearing mens trousers for outdoor work. As mentioned in "A Knot in Time," this became more popular in the 1930's when Katharine Hepburn sported wide legged pants and blazers, and Marlene Dietrich wore a tuxedo in the film Morocco. In the 1960's, André Courrèges made a women's line of trousers, later turning into the pants suit. Around this time was the feminist movement, where women were wearing denim pants and button-downs. In 1975, singer Patti Smith is shown wearing a button down and suspenders on her album for Horses. The trend of women wearing mens clothing is seen today as described by Bethany Shorb from Cyberoptix TieLab, when women are wearing bowties as necklaces and hair ties, as well as blazers and prints that are common in menswear.